Could a Tiger Walk a Tightrope?: Hilarious scenes bring tiger facts to life (What if a) (Hardcover)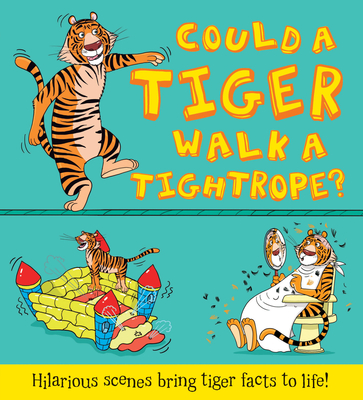 Out of Print in This Format
Description
---
Could a Tiger Walk a Tightrope? provides a fun and informative introduction to the life of a tiger. Tigers are big, meat-eating cats. They like to sleep and eat… and then sleep and eat some more! Imagine if a Bengal tiger came to stay. What would he like to do? By imagining animals in everyday scenarios, readers can learn about their size, diet and other features. Featuring superb illustrations and an engaging question and answer format, this title is extremely engaging and enjoyable.
 
About the Author
---
Camilla de le Bedoyere was a teacher for 10 years before she became a full-time nonfiction author. She has written more than 250 books for children. Camilla is currently Editor of the Children's Page of a British national newspaper.
Aleksei Bitskoff always loved to draw as a child, covering his exercise books in doodles. His illustration for the AOI's Transport For London competition was exhibited in the summer and his story Me and You gained 3rd place in the Macmillan Prize. He has also been highly commended in the England's Cheltenham Illustration Award.