The Siege and Fall of Troy (Hardcover)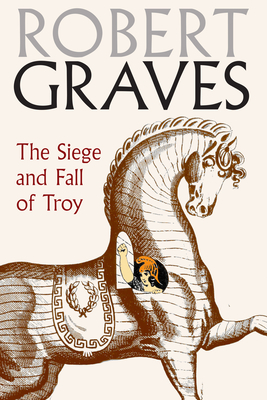 $16.95
Not On Our Shelves—Ships in 1-5 Days
Description
---
For centuries, the ancient world was electrified by the story of the ten-year war that brought down the ancient city of Troy and destroyed the lives of countless Greek and Trojan warriors. In the modern world, according to Robert Graves, "English literature, to be properly understood, calls for as close a knowledge of the Trojan War as of the Bible." Here are ambition, greed, cruelty, suffering, madness, treachery, jealousy, pride, and foolishness in abundance, a tale of woe that brings the ancient world into a modern context.

The ancient city of Troy was sacked sometime early in the twelfth century BC; The Iliad and The Odyssey were composed some four or five centuries later. But there were many other accounts besides Homer's, and Graves uses them all. His writing style is sleek, action- driven, and to the point. A great story like this deserves a great story-teller, and gets all that and more in Robert Graves.
About the Author
---
One of English literature's fiercest practitioners, Robert Graves (1895–1985) was a preeminent poet, novelist, memoirist, critic, translator, children's book author, and scholar of classical mythology. He served and was injured as an infantry officer in France during World War I—an experience recounted in his 1929 autobiography, Goodbye to All That—and later became the first professor of English literature at the University of Cairo. Graves is best remembered today for I, Claudius and other acclaimed historical novels, The Reader Over Your Shoulder (which popular grammarian Patricia T. O'Conner has called "the best book on writing ever published"), and his works of classical mythology for adults and children, including The White Goddess, The Siege and Fall of Troy, and Greek Gods and Heroes. Others among his many acclaimed works of poetry, fiction, and nonfiction include Collected Poems, Homer's Daughter, Wife to Mr. Milton, They Hanged My Saintly Billy, and The Golden Fleece; with Alan Hodge: The Long Week-End and The Reader Over Your Shoulder; and for children: Ann at Highwood Hall and The Hebrew Myths.

Dan-el Padilla Peralta is assistant professor of classics at Princeton University. His 2015 memoir Undocumented: A Dominican Boy's Odyssey from a Homeless Shelter to the Ivy League (Penguin) received an Alex Award from the American Library Association.
Praise For…
---
"Vigorous and packed with action." –The New York Times Book Review


"A fresh, new story." –Library Journal