The Third Chimpanzee for Young People: On the Evolution and Future of the Human Animal (For Young People Series) (Hardcover)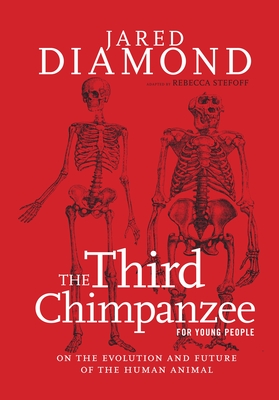 $22.95
Not On Our Shelves—Ships in 1-5 Days
Description
---
At some point during the last 100,000 years, humans began exhibiting traits and behavior that distinguished us from other animals, eventually creating language, art, religion, bicycles, spacecraft, and nuclear weapons—all within a heartbeat of evolutionary time. Now, faced with the threat of nuclear weapons and the effects of climate change, it seems our innate tendencies for violence and invention have led us to a crucial fork in our road. Where did these traits come from? Are they part of our species immutable destiny? Or is there hope for our species' future if we change?

With fascinating facts and his unparalleled readability, Diamond intended his book to improve the world that today's young people will inherit. Triangle Square's The Third Chimpanzee for Young People is a book for future generation and the future they'll help build.
About the Author
---
In addition to teaching geography at UCLA, researching the birds of New Guinea and the Southwest Pacific Islands, and promoting the practice of sustainable environmental policies to leaders around the world, JARED DIAMOND is also the author of bestselling books about evolution and human history. Diamond studied physiology at Harvard and Cambridge, before narrowing his research to the cellular and molecular mechanisms of the gall bladder. It was on a summer trip to New Guinea in 1964, however, that he first began to carefully consider the questions that would intrigue him for the next half-century: why did New Guinea's extremely intelligent and resourceful indigenous peoples have no writing, chiefs, or steel tools? His Pulitzer Prize-winning Guns, Germs and Steel: The Fates of Human Societies was an attempt to answer that question. Diamond is the author of several other books on geography and evolutionary biology, including Why is Sex Fun?: The Evolution of Human Sexuality and Collapse: How Societies Choose to Fail or Succeed. The Third Chimpanzee for Young People is his first book adapted for younger audiences. Diamond lives in Los Angeles.

REBECCA STEFOFF specializes in writing nonfiction for young readers, with a focus on scientific, historical, and literary subjects. Her adaptations include A Young People's History of the United States by Howard Zinn and A Different Mirror for Young People by Ronald T. Takaki.
Praise For…
---
"This is exactly the kind of book that should be a 'set text' for a reinvigorated science curriculum: engaging, thought-provoking and bang up to the minute. If your teachers aren't recommending books like this – go out and get them anyway." —Guy Claxton, author of What's the Point of School?

"Written with great wit and a pleasure to read ... forces one to reflect thoroughly on the puzzle of human evolution, on where we came from and where we may be heading." —Frans B. M. de Waal (in praise of the adult edition), New York Times

"Plenty of provocative ideas in this grand sweep of evolutionary biology and anthropology: not surprising for this MacArthur 'genius' Award winner, Natural History columnist, and UCLA Medical School physiology professor." —Kirkus Reviews (in praise of the adult edition)