We're following all official guidelines to keep ourselves healthy on the job, and as a result, shipping may be delayed.
You will receive an email from our web orders team confirming that your order has been processed.
We thank you for your support and your patience at this challenging time.
Prohibition in Washington, DC: How Dry We Weren't (Paperback)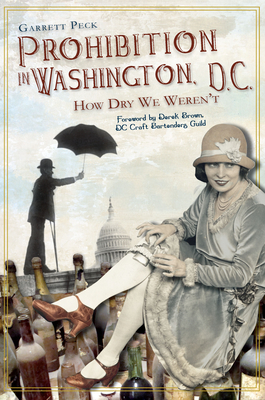 Description
---
In 1929, it was estimated that every week bootleggers brought twenty-two thousand gallons of whiskey, moonshine and other spirits into Washington, D.C.'s three thousand speakeasies. H.L. Mencken called it the thirteen awful years, "? though it was sixteen for the District. Nevertheless, the bathtub gin, swilling capital dwellers made the most of Prohibition. Author Garrett Peck crafts a rollicking history brimming with stories of vice, topped off with vintage cocktail recipes and garnished with a walking tour of former speakeasies. Join Peck as he explores an underground city ruled not by organized crime but by amateur bootleggers, where publicly teetotaling congressmen could get a stiff drink behind House office doors and the African American community of U Street was humming with a new sound called jazz.