Billie (Paperback)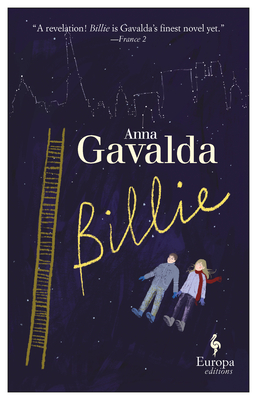 $16.00
Not On Our Shelves—Ships in 1-5 Days
Description
---
Two Parisians recount the story of their friendship while trapped in the C vennes Mountains in this #1 international bestselling novel.
When we meet Billie, she is trapped in a gorge in the C vennes National Park of France. There with her, injured and delirious with pain, is her best friend Franck. The two have relied on each other since they met years ago in Paris. As darkness encroaches, Billie recounts stories from their lives to stave off panic. Alternating between recollections of their childhoods and their dire present predicament, what unfolds is a moving tale of friendship and resilience.
A bright kid, Franck's future was menaced at every turn by his judgmental father and the bigotry surrounding him. As for Billie, she was willing to do anything and everything to escape from her abusive and alcohol-addled family. From the moment they met, Billie and Franck watched out for each other. Soon they became each other's chosen family through the best and worst moments of growing up in the City of Light.
Translated into more than twenty-five languages, Billie is a beautifully crafted novel that conveys a positive message about overcoming life's trials.
About the Author
---
Born in Paris in 1970, Anna Gavalda published her first work in 1999 while working as a high school French teacher. Je voudrais que quelqu'un m'attende quelque part, a collection of short stories, was met with both critical acclaim and commercial success, selling more than three-quarters of a million copies in her native France. The book was translated into numerous languages and sold in twenty-seven countries. Gavalda has since published three novels, all of which have become bestsellers across Europe. Her first novel, Someone I Loved, was made into a movie in 2000 and the 2007 film adaptation of her novel Hunting and Gathering starred Audrey Tatou. Her most recent work, The Cracks in Our Armor, was shortlisted in the Belles-Lettres Category for the Grand Prix of Literary Associations (GPLA) in 2017. In addition to writing novels, Gavalda contributes to Elle Magazine. She lives in Paris. Jennifer Rappaport received a BA in English and French from Vassar College and an MA in comparative literature from New York University, where she was awarded a Chateaubriand Fellowship from the French government. A former editor at Oxford University Press and the New Press, she is currently a freelance editor and translator in New York.