Return to the Dark Valley (Paperback)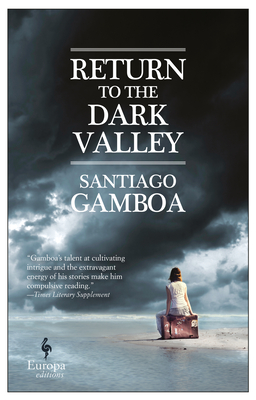 $18.00
Not On Our Shelves—Ships in 1-5 Days
Description
---
Gritty Central and South American lives from an underground Colombian literary voice.

Santiago Gamboa is one of Colombia's most exciting young writers. In the manner of Roberto Bolaño, Gamboa infuses his kaleidoscopic, cosmopolitan stories with a dose of inky dark noir that makes his novels intensely readable, his characters unforgettable, and his style influential.

Manuela Beltrán, a woman haunted by a troubled childhood she tries to escape through books and poetry; Tertuliano, an Argentine preacher who claims to be the Pope's son, ready to resort to extreme methods to create a harmonious society; Ferdinand Palacios, a Colombian priest with a dark paramilitary past now confronted with his guilt; Rimbaud, the precocious, brilliant poet whose life was incessant exploration; and, Juana and the consul, central characters in Gamboa's Night Prayers, who are united in a relationship based equally on hurt and need. These characters animate Gamboa's richly imagined portrait of a hostile, turbulent world where liberation is found in perpetual movement and determined exploration.
About the Author
---
Novelist, short story writer, and journalist, Santiago Gamboa was born in Colombia in 1965. His American debut, published by Europa in 2012, was the novel Necropolis, winner of the Otra Orilla Literary Prize. He is also the author of Night Prayers (Europa Editions, 2016).

For Europa Editions, Howard Curtis has translated five novels by Jean-Claude Izzo, including all three books in his Marseilles trilogy, as well as fiction by Francisco Coloane, Canek Sanchez Guevara, Caryl Férey, and two previous books by Santiago Gamboa.
Praise For…
---
Praise for Return to the Dark Valley

"Action-packed plotting propels this rabidly contemporary novel forward, as it examines the movement of people across the shifting geopolitical landscape, the impossibility of returning and the potential redemptive power of poetry."
—The New York Times Book Review

"A complex, challenging story that speaks to the terror and dislocation of the age."
—Kirkus Reviews

"An unsettling and brilliant document of contemporary life; highly recommended."
—Library Journal, starred review

"Gamboa possesses considerable talent at creating energetic scenes that spiral off in intriguing directions."
—San Francisco Chronicle

"Fans of Roberto Bolaño will feel right at home in this globetrotting tale of misfit poets and ultraviolent drug lords. [...] [A] page turner that is fiercely contemporary and wickedly funny in its analysis of the forces tearing at the seams of the world."
—Miami Rail

Praise for Santiago Gamboa

"Gamboa's talent at cultivating intrigue and the extravagant energy of his stories make him compulsive reading."
—Times Literary Supplement

"Brilliantly translated, Night Prayers is an incredible reading experience with a pounding heart and wisdom to boot."
—Mark Haber, Brazos Bookstore

"Gamboa's work calls to mind Roberto Bolaño in its masterful suspense, complex literary references, and frank depiction of violence, sex, and drugs."
—Publisher's Weekly 

"Gamboa's storytelling impresses."
—The Complete Review

"Gamboa's strength is an apparently inexhaustible stream of narriative invention, an addictive 'and then, and then' quality that, at its best, erupts into flourishes of breathtaking poetry."
—Shelf Awareness 

"Each novel by Santiago Gamboa is at the forefront of the best Latin American novels. Gamboa dismantles the legacy of Chandler and Hammett, adapting it to the craggy environs of Colombia, and adds to it a tireless sense of ethics. His novels revitalize a genre that we thought could do no more."
—Martín Solares, author of The Black Minutes

"This novel stands on its own as a masterwork of storytelling."
—Publishers Weekly about Necropolis

"A work that is by turns tender, farcical, explicit, bombastic and never less than engrossing."
—The Irish Times about Necropolis