The Dream Maker (Paperback)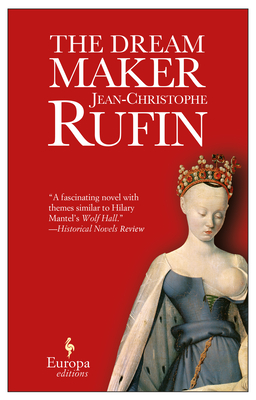 $18.00
Not On Our Shelves—Ships in 1-5 Days
Description
---
After a brilliant career as a trader, Jacques Coeur was summoned to the court of Charles VII and appointed Master of the Mint in 1436. He rose to become the King of France's visionary First Banker who, with his tours of the Far East, his opposition to the crusades, and his efforts to develop trade, brought France out of the darkness toward the Renaissance and modernity. At the height of his success, his ill-considered infatuation with Agnès Sorel, King Charles VII's favorite mistress, precipitated Coeur's fall from grace.

In Rufin's delectable prose this true story becomes a gripping tale of adventure, a novel of ideas, and a moving love story.
About the Author
---
Jean-Christophe Rufin is one of the founders of Doctors Without Borders and a former Ambassador of France in Senegal. He has written numerous bestsellers, including The Abyssinian, for which he won the Goncourt Prize for a debut novel in 1997. He also won the Goncourt Prize in 2001 for Brazil Red.

Alison Anderson's translations for Europa Editions include novels by Sélim Nassib, Amélie Nothomb, and Eric-Emmanuel Schmitt. She is the translator of The Elegance of the Hedgehog (Europa, 2008) and The Life of the Elves (Europa, 2016) by Muriel Barbery.
Praise For…
---
Praise for The Dream Maker

"The Dream Maker brings to vivid life the exmplary career of a little known medieval paragon, Jacques Coeur, banker, visionary and crafter of the glory that was France."
—The Barnes & Noble Review

"The Dream Maker blends with skill and efficiency politics, business, travel and love. All of this written in a classic, elegant prose, of which Jean-Christophe Rufin has long had a command."
—Le JDD

"Rufin bestows such immediacy to this artist of finance, such vitality that we hear the sound of Coeur's own voice telling us his life."
—Télérama

"In this time of the dehumanization of the economy and forced globalization, Jean-Christophe Rufin offers his readers a return to the origins, to when commerce was considered one of man's most beautiful accomplishments, to a time when the wildest dreamer could be a wealthy merchant—Jacques Coeur, the treasurer poet."
—Philippe Chevilley, Les Echos

"Jean-Christophe Rufin has re-established his eloquence and spirit, that of the great novelist of the people, which…enchants his readers. His new novel is both a chivalric odyssey and a brilliant reflection on power."
—Lire