The Crossing (Paperback)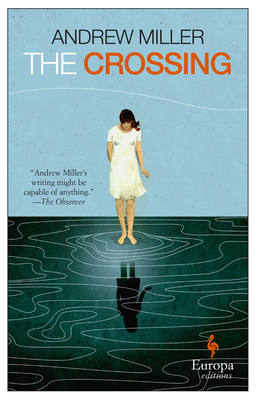 $18.00
Not On Our Shelves—Ships in 1-5 Days
Description
---
From the author of Pure

Andrew Miller's The Crossing is a fascinating modern tale of a brave and uncompromising woman's attempt to seize control of her life and fate. 

Who else has entered Tim's life the way Maud did? This girl who fell past him, lay seemingly dead on the ground, then stood and walked. That was where it all began. He wants her—wants to rescue her, to reach her. Yet there is nothing to suggest Maud has any need of him, that she is not already complete. A woman with a talent for survival, who works long hours and loves to sail—preferably on her own.

When Maud finds her unfulfilling mariage tested to the breaking point by unspeakbale tragedy, she attempts an escape from her husband and the hypocrisies of society. In her quest she will encounter the impossible and push her mind and body to their limit.

A wise and thrilling portrait of an irreducible heroine who asks no permission and begs no pardon, the book will resonate with sophisticated female readers, of whom there are many. Those who read and adored the Ferrante stories will find in The Crossing a truth that's absent from most contemporary literature.
About the Author
---
Andrew Miller is one of Britain's premier authors. His novel Pure won both Costa's Novel of the Year and Book of the Year award, and was selected by The Guardian as one of the ten greatest historical novels, alongside such masterpieces as War and Peace and Wolf Hall. His novel Oxygen was shortlisted for the Man Booker Prize.
Praise For…
---
Praise for The Crossing and Andrew Miller

"...whether he sets a story in the 18th century or the present, and no matter his subject, [Miller's] prose is highly distinctive in its detached precision. He writes like a scientist, utterly shorn of sentimentality, patient and cleareyed."
—Claire Messud, The New York Times Book Review

"Maud emerges as a memorable figure, a misunderstood woman who has yet to discover her own brilliance and tenacity."
—The New Yorker

"The beauty of this subtle novel is that it derives enormous power from small details, such as the discovery of a heart-shaped hair clip, and Maud's encounters with children on a distant island."
—Shelf Awareness

"[T]aut, crystalline, with not a wasted word. Toss aside the "Girl" mysteries – this one is more grown up, and far less forgettable."
—The Minneapolis Star Tribune

"In pristine, elegant prose, Miller creates an indelible portrait of a mysterious woman and her tragic quest." 
—Kirkus (Starred Review)

"There's a beauty in the precision of Miller's writing . . . With every turn
of the page, the reader becomes more and more intrigued by Maud herself."
—The Independent

"Miller's writing is assured, often poetic."
—The Financial Times

"Rich and delicate . . . Maud, and questions about Maud, will linger in your
mind long after you close this remarkable novel."
—The Guardian

"In Pure, Miller has a gift for characterization and ability to summon up
a world that convinces absolutely."
—The New York Times Sunday Book Review

"Pure is richly evocative of a time, place, and man in dangerous flux.
It is brilliance distilled."
—The Telegraph

"Elegantly written and intricately constructed…Pure is an artful,
carefully wrought novel."
—The New York Times

"Reading Oxygen, you have the suspicion that Andrew Miller's writing
might be capable of anything."
—The Observer