Darkness for the Bastards of Pizzofalcone (Paperback)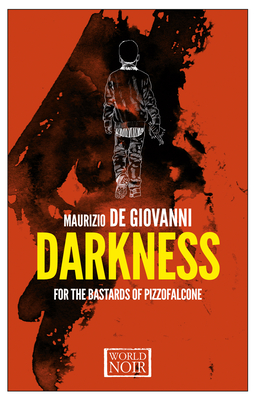 $17.00
Not On Our Shelves—Ships in 1-5 Days
Description
---
A kidnapped child and the burglary of a high-class apartment: two crimes that seem to have no connection at all until Inspector Lojacono, known as "The Chinaman," starts to investigate.
 
De Giovanni is one of the most dexterous and successful writers of crime fiction currently working in Europe. His award-winning and bestselling novels, all set in Naples, offer a brilliant vision of the criminal underworld and the police that battle it in Europa's most fabled, atmospheric, dangerous, and lustful city.
 
The Bastards of Pizzofalcone is a new series set in contemporary Naples that draws inspiration from Ed McBain's 87th Precinct novels and features a large cast of complicated cops doing battle with ruthless criminals.
About the Author
---
Maurizio de Giovanni's Commissario Ricciardi books are bestsellers across Europe, having sold well over 1 million copies. De Giovanni is also the author of the contemporary Neapolitan thriller, The Crocodile (Europa, 2013) and the new contemporary Neapolitan series, The Bastards of Pizzofalcone. He lives in Naples with his family.

Antony Shugaar's translations for Europa Editions include For Grace Recieved by Valeria Parrella, Everybody's Right by Paolo Sorrentino, Fabio Bartolomei's Alfa Romeo 1300 and Other Miracles, and Margherita Dolce Vita by Stefano Benni.
Praise For…
---
Praise for Darkness for the Bastards of Pizzofalcone

"The police characters are flawed, lovable, and believable – you cannot but take to them.... Naples comes through loud and clear in the story." 
—Tripfiction


Praise for the Commissario Ricciardi Series

"De Giovanni has created one of the most interesting and well-drawn detectives in fiction."
—The Daily Beast

"Impossible to resist."
—Crimetime UK

"Ricciardi is an intriguing detective."
—Library Journal

"Reading a novel by Maurizio de Giovanni is like stepping into a Vittorio De Sica movie."
—The New York Times

"The author's elegant style ennobles the wretched lives he views with such compassion."
—The New York Times Book Review

"[de Giovanni] explores an imperfect and truthful compassion, and finds that fragile place inside the bastards that resists the heavy hand of fated suffering."
—Los Angeles Review of Books