The Street Kids (Paperback)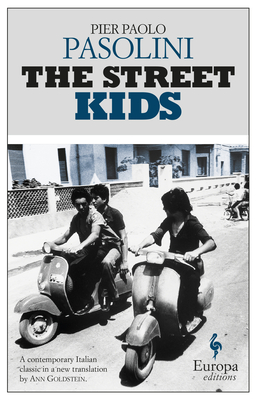 $18.00
Not On Our Shelves—Ships in 1-5 Days
Description
---
The Street Kids is the most important novel by Italy's preeminent late-20th Century author and intellectual, Pier Paolo Pasolini. A powerful, groundbreaking contemporary classic, The Street Kids is now available in a new translation by Ann Goldstein, translator of Elena Ferrante's Neapolitan Novels. 

Set in Rome during the post-war years, the Rome of the "borgate," outlying neighborhoods beset by poverty and deprivation, The Street Kids tells the story of a group of adolescents belonging to the urban underclass. Living hand-to-mouth, Riccetto and his friends eek out an existence doing odd jobs, committing petty crimes and prostituting themselves. Rooted in the neorealist movement of the 1950s, The Street Kids is a tender, heart-rending tribute to an entire social class in danger of being forgotten. 

Pasolini's novel was heavily censored, criticized by professional critics, and lambasted by much of the general public upon its publication. But its undeniable force and vitality eventually led to it being universally acknowledged as a masterpiece.
About the Author
---
Pier Paolo Pasolini was born in 1922. He was an Italian film director, poet, writer, and intellectual. Throughout his life he exhibited extraordinary cultural versatility and became a highly controversial figure in the process. While his work remains controversial, since his death in 1975, Pasolini has come to be seen as a visionary thinker and a major figure in italian literature and art. American literary critic Harold Bloom considered Pasolini to be a major 20th-century poet and included his works in his collection of the Western Canon.

Ann Goldstein is an editor at The New Yorker. Her translations for Europa Editions include novels by Amara Lakhous, Alessandro Piperno, and Elena Ferrante's bestselling My Brilliant Friend. She lives in New York.
Praise For…
---
Praise for Pier Paolo Pasolini

"[Pasolini was a] brilliant intellectual, a director, and a homosexual, whose political vision-based on a singular entwinement of Eros, Catholocism, and Marxism-foresaw Italian history after his death, and the burgeoning of global consumerism."
—Ed Vulliamy, The Guardian

"Pasolini is Italy's most important twentieth century poet."
—Alberto Moravia, author of The Conformist and Roman Tales

"Pasolini was an artist and thinker who tried not to resolve his contradictions but rather to fully embody them."
—Dennis Lim, The New York Times 

"Pasolini does in prose what Giuseppe Gioachino Belli had done in poetry a century before, namely voice society's dregs in their own distinctive idiom."
—TLS

"Pasolini was always searching, completely open to different ways of looking at things."
—Jytte Jensen, curator of the Pasolini retrospective at the Museum of Modern Art, New York