The Crusades of Cesar Chavez: A Biography (Hardcover)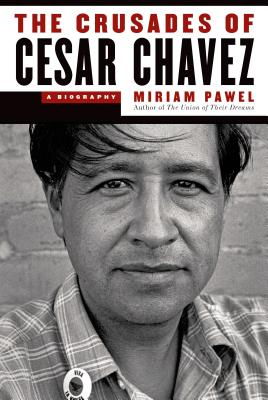 $35.00
Not On Our Shelves—Ships in 1-5 Days
Description
---
National Book Critics Circle Award Finalist
Cesar Chavez founded a labor union, launched a movement, and inspired a generation. He rose from migrant worker to national icon, becoming one of the great charismatic leaders of the 20th century. Two decades after his death, Chavez remains the most significant Latino leader in US history. Yet his life story has been told only in hagiography--until now.
In the first comprehensive biography of Chavez, Miriam Pawel offers a searching yet empathetic portrayal. Chavez emerges here as a visionary figure with tragic flaws; a brilliant strategist who sometimes stumbled; and a canny, streetwise organizer whose pragmatism was often at odds with his elusive, soaring dreams. He was an experimental thinker with eclectic passions--an avid, self-educated historian and a disciple of Gandhian non-violent protest. Drawing on thousands of documents and scores of interviews, this superbly written life deepens our understanding of one of Chavez's most salient qualities: his profound humanity.
Pawel traces Chavez's remarkable career as he conceived strategies that empowered the poor and vanquished California's powerful agriculture industry, and his later shift from inspirational leadership to a cult of personality, with tragic consequences for the union he had built. The Crusades of Cesar Chavez reveals how this most unlikely American hero ignited one of the great social movements of our time.
About the Author
---
Miriam Pawel is the author of The Union of Their Dreams, widely acclaimed as the most nuanced history of Cesar Chavez's movement. She is a Pulitzer-winning editor who spent twenty-five years working for Newsday and the Los Angeles Times. She was recently awarded a National Endowment for the Humanities fellowship, and lives in Southern California.
Praise For…
---
[An] honest, exhaustively researched biography of Cesar Chavez, the charismatic leader and founder of the United Farm Workers who famously led strikes and boycotts to improve the lot of grape pickers in the 1960s. The Crusades of Cesar Chavez is a biography for readers who find real human beings more compelling than icons and history more relevant than fantasy.



The first comprehensive biography of the spectacular rise and messy decline of the United Farm Workers Union, and the man who struck the sparks that launched an epic American social movement.



Engrossing . . . There is so much brilliant political theater in this book that it's easy to see why Chavez is still the most celebrated Latino leader in American history.



Powerful and captivating, this first comprehensive biography of Latino rights leader Cesar Chavez traces the story of a man from migrant worker to union leader to icon. Though a historical figurehead, this book doesn't shy away from Chavez's moral blemishes, but paints him as a man of deep humanity…The Crusades of Cesar Chavez is an honest, well-rounded look at one of the 20th century's greatest leaders.



Pawel, rigorous and captivating, follows her history of Cesar Chavez's crusade to protect farm workers' rights, The Union of Their Dreams, with a zestful, dramatic, and redefining biography of the innovative, daring, and persevering activist…Pawel thoroughly chronicles every aspect of Chavez's battles against California's politically dominant produce growers, from audacious strikes to the now legendary national grape boycott to his penitential fasts. As she insightfully dissects Chavez's troubled relationships with his inner circle and each phase in the rise and fall of his increasingly complex and mismanaged organization, Pawel portrays a visionary civil rights leader whose fame and near-beatification engendered tragic misuses of power, but who improved countless lives and raised global consciousness. Chavez's epic story, told so astutely and passionately by Pawel, is essential to understanding today's struggles for justice and equality.



"Pawel paints a complex portrait of Chavez with all his strengths and weaknesses...The author's insightful, painstakingly researched, and thoughtful work makes Chavez all the more dimensional and nuanced by recognizing his failings as well as his successes. This fully rounded portrait could well be the definitive biography of this all too human figure." - Library Journal, starred review "A comprehensive portrait… Pawel's clear, accessible prose befits a subject famous for his plain rhetoric, ensuring a broad readership can appreciate this valuable exploration of Chavez's unique legacy." - Publishers Weekly "A warts-and-all biography of an important figure." -Kirkus Reviews



The most comprehensive and accurate book on the life and work of Cesar Chavez. It is extremely factual, and Pawel lets those facts speak for themselves. She has no agenda or desired outcome in the book. The book highlights the complexity of Cesar Chavez as a person, and does not hesitate to point out all of the virtues and shortcomings of Cesar's work in trying to organize California's farm workers. If you are interested in obtaining one of the best books on Cesar Chavez, this is the one." - Cardinal Roger Mahoney "Pawel has given us an inspiring book. It introduces us to a formidable leader who drew America's most disadvantaged workers into a powerful movement. And yet every reader will identify with Cesar Chavez' human foibles; every discouraged political visionary will be moved by his story." -Alice Kessler-Harris, author of A Difficult Woman: The Challenging Life and Times of Lillian Hellman "Miriam Pawel's new biography The Crusades of Cesar Chavez, massively researched and expertly written, is a welcome expansion and enrichment of her earlier study The Union of Their Dreams. Together they represent the definitive story of this charismatic farm worker and controversial visionary leader whose courage and near-genius as an organizer invigorated the stormy history of American labor.



Miriam Pawel's magnificent biography of Cesar Chavez has the force and scope of a great American novel. Here is the story of a man, from the humblest beginnings, who became a labor organizer as famous as any; here is a deeply flawed man who yearned to be a saint.



Guau! Miriam Pawel has finally given us the Cesar Chavez we deserve: neither a saint nor a bully but a complex American activist who rose to the occasion with courage, astuteness, and intuition, but was also clumsy, misinformed, and nearsighted. Written in a beautifully nuanced style and displaying enviable depth of knowledge, The Crusades of Cesar Chavez is a masterpiece. Future biographies will be measured against it.



Miriam Pawel has produced the definitive account--a lucid, thoughtful, evocative, deeply reported, bracingly honest account--of the life of one of our most consequential modern agents of change. And what a perfect moment for this book's appearance, as the explosion of the Latino population, the implosion of the union moment, immigration policy gridlock and growing inequality have become defining issues of our American moment.



This is a remarkable account of the life of Cesar Chavez and of his iconic struggle for justice for America's migrant farmworkers. Miriam Pawel provides a vivid narrative that is unmatched for the authenticity of its behind-the-scenes detail. That rarest of beasts, The Crusades of Cesar Chavez is at once an important historical document, and a compelling read.