Intel Wars: The Secret History of the Fight Against Terror (Hardcover)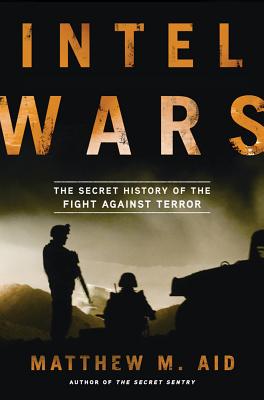 $28.00
Special Order—Subject to Availability
Description
---
The shock of the 9/11 attacks sent the American intelligence community into hyperactive growth. Five hundred billion dollars of spending in the Bush-Cheney years turned the U.S. spy network into a monster: 200,000-plus employees, stations in 170 countries, and an annual budget of more than $75 billion. Armed with cutting-edge surveillance gear, high-tech weapons, and fleets of armed and unarmed drone aircraft, America deploys the most advanced intel force in history.
But even after the celebrated strike against Osama Bin Laden, America's spies are still struggling to beat a host of ragtag enemies around the world.
In Intel Wars, preeminent secrecy and intelligence historian Matthew Aid ("our reigning expert on the NSA"-Seymour M. Hersh) delivers the inside stories of how and why our shadow war against extremism has floundered. Spendthrift, schizophrenic policies leave next-generation spy networks drowning in raw data, resource-starved, and choked on paperwork. Overlapping jurisdictions stall CIA operatives, who wait seventy-two hours for clearance to attack fast-moving Taliban IE D teams. U.S. military computers-their classified hard drives still in place-turn up for sale at Afghan bazaars. Swift, tightly focused operations like the Bin Laden strike are the exception rather than the rule.
Intel Wars-based on extensive, on-the-ground interviews, and revelations from Wikileaks cables and other newly declassified documents-shows how our soldier-spies are still fighting to catch up with the enemy. Matthew Aid captures the lumbering behemoth that is the U.S. military-intelligence complex in one comprehensive narrative, and distills the unprecedented challenges to our security into a compelling- and sobering-read.
About the Author
---
Matthew M. Aid is the author of The Secret Sentry, the definitive history of the National Security Agency, and a leading intelligence historian and expert on the NSA. He is a regular commentator on intelligence matters for the New York Times, the Financial Times, National Journal, the Associated Press, CBS News, National Public Radio, and many others. He lives in Washington, D.C.
Praise For…
---
"Every chapter in the book is braided with intelligence nuggets. Aid weaves together original reporting, volumes of unclassified documents and his expertise. The book's chapters on Afghanistan and Pakistan are particularly engrossing…. Aid has written a highly entertaining and interesting book that provides a full-color, detailed snapshot of how the Obama administration is using intelligence to battle terrorism and that hints about how that battle is likely to be waged in the future." —Dina Temple-Raston, The Washington Post
"Aid's book is full of … revelatory anecdotes. It's one thing to say that the ISI has helped America's enemies; it's another thing to show precisely how." —Ken Dilanian, Los Angeles Times
"If the devil is in the details, then Matthew M. Aid, author of Intel Wars: The Secret History of the Fight Against Terrorism, has written a devilish book indeed … a highly researched look inside the decade's most important intelligence efforts, and while sobering at best, it's not always bad news. You just have to look harder for the good news." —Suzanne Kelly, CNN.com
"Intel Wars teems with useful statistics and interesting anecdotes." —Harry Levins, St. Louis Post-Dispatch
"Aid's wide-ranging and timely assessment of the current state of U.S. intelligence should appeal to anyone interested in U.S. defense policy." —Publishers Weekly
"An expert update on American security that turns up more problems than solutions." —Kirkus
"Merits serious consideration by those concerned with our security at home and abroad." —Booklist
Coverage from NPR