The Ascent of George Washington: The Hidden Political Genius of an American Icon (Paperback)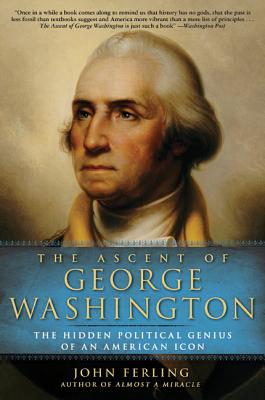 $20.00
Special Order—Subject to Availability
Description
---
Historian John Ferling has been called a "national resource," and his latest book again demonstrates his unsurpassed insight into the Founding Fathers, giving us George Washington as we have never seen him before.
Our first president has long been viewed as a hero who rose above politics. The Ascent of George Washington peers behind that image-one carefully burnished by Washington himself-to reveal a leader who was not only not above politics, but a master manipulator adept in the arts of persuasion, leverage, and deniability. Washington deftly screened burning ambition behind an image of republican virtue-but that image made him just the leader that an overmatched army and a shaky young nation desperately needed.
About the Author
---
John Ferling is Professor Emeritus of History at the State University of West Georgia. A leading authority on American Revolutionary history, he has appeared in many documentaries and has written numerous books, including Almost a Miracle: The American Victory in the War for Independence, Adams vs. Jefferson: The Tumultuous Election of 1800, The First of Men: A Life of George Washington, Setting the World Ablaze: Washington, Adams, and Jefferson in the American Revolution, and the award-winning A Leap in the Dark: The Struggle to Create the American Republic.
Praise For…
---
"Sensing that such biographers as James Flexner and Joseph Ellis have accepted the above-politics thesis, Ferling inspects the evidence of Washington's political activities…while illustrating the substance behind Washington's image as the indispensable man, Ferling pointedly grounds that image in the political soil from which it sprang." —Booklist
"Ferling has done his research and offers some new insights…recommended for readers interested in taking a fresh look at Washington's political life" —Library Journal
"Never questioning Washington's greatness, Ferling insists that seeing him as an artful self-promoter and master politician only enhances his reputation as an adept leader who knew exactly what he was doing…a fresh take on a monumental American." —Kirkus
"Once in a while a book comes along to remind us that history has no gods, that the past is less fossil than textbooks suggest and America more vibrant than a mere list of principles. John Ferling's Ascent of George Washington is just such a book: a fresh, clear-eyed portrait of the full-blooded political animal that was George Washington…In John Ferling's eminently readable, landmark interpretation, we cannot help but marvel at the man." —Marie Arana, Washington Post
"The Washington who emerges from the nearly four hundred pages of well-crafted narrative is a man who became first in the hearts of his countrymen by looking out for Number One… Washington was a complex personality, as John Ferling's study makes clear, and it provides readers with a fuller portrait of the figure who was the First of Men of his time." —Virginia Magazine of History and Biography