I Love Science: A Journal for Self-Discovery and Big Ideas (Women in Science) (Diary)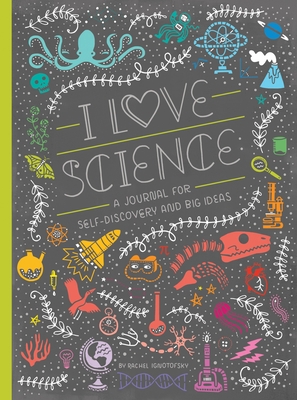 $14.99
In Stock—Click for Locations
Description
---
A guided journal based on Rachel Ignotofsky's New York Times bestselling book Women in Science: 50 Fearless Pioneers Who Changed the World.

Full of writing, drawing, and creativity prompts, I Love Science inspires kids (and adults) of all ages to fill the pages with ideas, self-exploration, and big dreams for the future. Opening with a short reference section that contains basic equations, the periodic table, basic HTML codes, and a measurement converter, the journal then invites the user to write and dream through writing prompts like, "What is a challenge you've overcome recently?" The journal also includes inspirational quotes from notable women who've achieved greatness in the science, technology, mathematics, and engineering (STEM) fields, such as famous primatologist Jane Goodall's, "Only when our clever brain and our human heart work together can we reach our full potential."

With illustrations, quotes, and nifty science infographics, this journal will encourage you to ponder the world through tinkering, discovering, doodling, and more!



About the Author
---
RACHEL IGNOTOFSKY is an illustrator and designer. She graduated from Tyler School of Art's graphic design program and formerly worked as a senior designer and illustrator at Hallmark Greetings. Rachel and her work have been featured in many print and online media outlets such as Instagram, Babble, The Huffington Post, the Scientific American's blog, and Buzzfeed.

Praise For…
---
PRAISE FOR WOMEN IN SCIENCE:
"Chances are you've heard of Jane Goodall and Marie Curie. But what about other female titans of the science world? . . . .In this wittily illustrated, accessible volume, Rachel Ignotofsky highlights 50 women who changed the course of science."
– Wall Street Journal
"With short, inspiring stories and the accessibility of a graphic novel, Women in Science—50 Fearless Pioneers Who Changed The World (Ten Speed Press) is the perfect book to share with the science- and tech-minded people (male and female, young and old) in your life. . . .The must-read, girl-power STEM book."
– InStyle.com
"This book of illustrated biographies of scientific pioneers is hands-down gorgeous. Rachel Ignotofsky's bright, bold drawings light up the short stories about the life and work of women ranging from Wang Zhenyi (a 16th century Chinese astronomy) to Mae Jemison (an American astronaut and educator). Kids will love paging through this, looking at all the detailed drawings, but they'll likely have to rip it out of the hands of the adults who are marveling at each new page of factoids."
– Sarah Mirk, Bitch Media
"The book is a beautifully curated collection of personal narratives from female scientists from a wide variety of backgrounds and disciplines, with a dash of whimsy thrown in." – Upworthy "I applaud Ignotofsky and her publisher for telling these important stories about women through such a rich, visual medium. The world needs more books like this."
– ScientificAmerican.com's Symbiartic
". . .an illustrated homage to some of the most influential and inspiring women in STEM. . . .Ignotofsky captures the heartbreaking inequalities that only amplify the impressiveness of these women's feats."
– Maria Popova, BrainPickings.org
". . .a clever introduction to women scientists through history."
– Science Friday
"True fact: This book is so cool that I had to go steal it back from my fifth grade daughter to review it. . . .this book perfectly balances well-researched facts with gorgeous, whimsical illustrations making it a favorite you just can't put down."
– Cool Mom Picks