Vegan Holiday Cooking from Candle Cafe: Celebratory Menus and Recipes from New York's Premier Plant-Based Restaurants (Hardcover)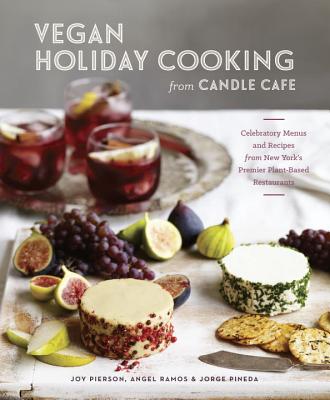 $22.99
Not On Our Shelves—Ships in 1-5 Days
Description
---
This collection of vegan holiday recipes—the first of its kind from award-winning chefs—elevates plant-based fare to a new level. With fresh, inventive menus for Thanksgiving, Christmas, New Year's Eve, Lunar New Year, Super Bowl Sunday, Valentine's Day, Passover, Easter, Cinco de Mayo, and Independence Day, this cookbook blends favorite traditions with a modern sensibility. Tantalizing dishes include Sweet Potato Latkes with Almond Crème Fraîche for Passover; Porcini-Crusted Seitan with Glazed Cipollini Onions and Mushroom Gravy for Thanksgiving; and Red, White, and Blue Margaritas for the Fourth of July. 

Now home cooks can entertain in the spirit of New York's premier vegan restaurants, Candle Cafe, Candle 79, and Candle Cafe West. With forewords by Alicia Silverstone and Laura and Woody Harrelson, plus sumptuous photography throughout, this festive cookbook invites vegans and omnivores alike to gather around the holiday table and enjoy.
About the Author
---
JOY PIERSON is co-owner of the Candle Cafe, Candle Cafe West, and Candle 79, and coauthor of The Candle Cafe Cookbook and Candle 79 Cookbook. Certified in nutritional counseling, Joy has appeared on the Todayshow, Good Day New York, CBS News This Morning, The Food Network's TV Food Diners, and NPR.

ANGEL RAMOS is executive chef at Candle 79 and Candle Café West. His recipes have been featured in the New York Times and Vegetarian Times, and he helped develop the nationally distributed Candle Café Frozen Entrees line. In 2010, Angel was named the VegNews Chef of the Year. Pastry chef and kitchen manager

JORGE PINEDA developed the nationally distributed Candle Café Desserts and Candle Chef's Cuisine for Whole Foods Markets, and his pastries have been deemed the "Best Vegan Desserts in America" by the Los Angeles Times.
Praise For…
---
"In their stunning new cookbook, the authors celebrate life with recipes that feed the body, nourish the soul, and protect the animals. Vegan Holiday Cooking is another step toward a happier and healthier planet for people and animals alike."
—Gene Baur, cofounder of Farm Sanctuary

"If you've woken up to the power of a plant-passionate diet but don't know how to make it sexy and festive, look no further. Vegan Holiday Cooking totally transforms conscious cuisine. This food has style and glamour. You'll learn how to throw a fabulous soiree or relaxed gathering with zero deprivation and 100 percent compassionate celebration. I can't think of a better way to feed the people I love. I'll be cooking from this book for years to come."
—Kris Carr, author of Crazy Sexy Diet and Crazy Sexy Kitchen

"These incredible recipes convinced even a world-class carnivore like me that vegan food is delicious when done right."
—Jimmy Kimmel, host of Jimmy Kimmel Live!

"This book is about celebration and fun—no deprivation, just pure joy and yumminess.
It inspires me to plan a year of parties."
—Alicia Silverstone, from the Foreword

"From sexy cocktails (check out the Persephone and Chai Kiss Valentine's specialties) to decadent desserts (we can't wait to try the Strawberry Rhubarb Tarts with Vanilla Bean–Coconut Ice Cream!), you will want to cook this amazing food for every holiday. Better yet, why wait for a holiday to roll around? It's time to become host or hostess extraordinaire!" 
—Laura and Woody Harrelson, from the Foreword