We're following all official guidelines to keep ourselves healthy on the job, and as a result, shipping may be delayed.
You will receive an email from our web orders team confirming that your order has been processed.
We thank you for your support and your patience at this challenging time.
The Ascent of George Washington: The Hidden Political Genius of an American Icon (Hardcover)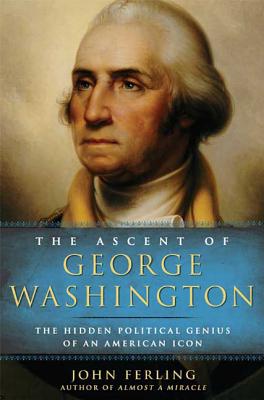 Special Order—Subject to Availability
Description
---
Perhaps the most revered American of all, George Washington has long been considered a stoic leader who held himself above the fray of political infighting. What has gone unnoticed about the much-researched life of Washington is that he was in fact a consummate politician, as historian John Ferling shows in this revealing and provocative new book. As leader of the Continental Army, Washington's keen political savvy enabled him not only to outwit superior British forces, but--even more challenging--to manage the fractious and intrusive Continental Congress. Despite dire setbacks early in the war, Washington deftly outmaneuvered rival generals and defused dissent from officers below him, ending the war with the status of a national icon. His carefully burnished reputation allowed Washington, as president, to lead the country under the guise of non-partisanship for almost all of his eight years in office. Washington, Ferling argues, was not only one of America's most adroit politicians, he was easily the most successful of all time--so successful, in fact, that he is no longer thought of as having been political.
About the Author
---
John Ferling is Professor Emeritus of History at the State University of West Georgia. A leading authority on American Revolutionary history, he has appeared in many documentaries and has written numerous books, including Almost a Miracle: The American Victory in the War for Independence, Adams vs. Jefferson: The Tumultuous Election of 1800, The First of Men: A Life of George Washington, Setting the World Ablaze: Washington, Adams, and Jefferson in the American Revolution, and the award-winning A Leap in the Dark: The Struggle to Create the American Republic.
Praise For…
---
"Sensing that such biographers as James Flexner and Joseph Ellis have accepted the above-politics thesis, Ferling inspects the evidence of Washington's political activities…while illustrating the substance behind Washington's image as the indispensable man, Ferling pointedly grounds that image in the political soil from which it sprang." —Booklist
"Ferling has done his research and offers some new insights…recommended for readers interested in taking a fresh look at Washington's political life" —Library Journal
"Never questioning Washington's greatness, Ferling insists that seeing him as an artful self-promoter and master politician only enhances his reputation as an adept leader who knew exactly what he was doing…a fresh take on a monumental American." —Kirkus
"Once in a while a book comes along to remind us that history has no gods, that the past is less fossil than textbooks suggest and America more vibrant than a mere list of principles. John Ferling's Ascent of George Washington is just such a book: a fresh, clear-eyed portrait of the full-blooded political animal that was George Washington…In John Ferling's eminently readable, landmark interpretation, we cannot help but marvel at the man." —Marie Arana, Washington Post