Eye: How It Works (Paperback)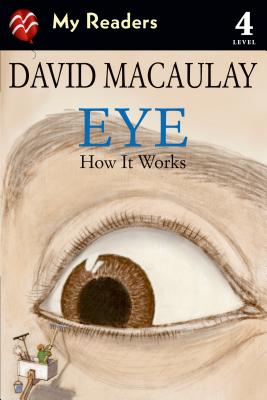 Description
---
Celebrated author-illustrator and master explainer David Macaulay brings his unique voice and style to high-interest nonfiction books for newly independent readers.
How can you see that your shirt is on inside out? How do you see the soccer ball coming right at you? How do you know which players are on your team? It all starts with light--and with the amazing human eye. With his unique blend of informative text and illustration, David Macaulay shows how the anatomy of this extraordinary organ works to capture light and send signals to our brains. Joining Castle, Jet Plane, and Toilet, here's an illuminating nonfiction story about the senses for newly independent readers.
About the Author
---
David Macaulay received his bachelor of architecture degree from Rhode Island School of Design. In January 1973, Macaulay went to France to work on the first of his twenty-five books, Cathedral. He then constructed a colonial Roman town (City, 1974), erected monuments to the Pharaohs (Pyramid, 1975), dissected the maze of subterranean systems below and essential to every major city (Underground, 1976), built a medieval fortress (Castle, 1977), and dismantled the Empire State Building (Unbuilding, 1980). Macaulay is perhaps best known for The Way Things Work (1988). It was followed by Black and White (1990) for which he won the 1991 Caldecott Medal. A revised edition of The Way Things Work was published in 1998 followed by Building Big, Mosque, and The Way We Work (2008). Sheila Keenan is an established author of fiction and nonfiction, including Greetings from the 50 States; Animals in the House: A History of Pets and People; O, Say Can You See? America's Symbols, Landmarks, and Inspiring Words; and Gods, Goddesses, and Monsters: A Book of World Mythology. Her work Dogs of War is a graphic novel of historical fiction based on the role of dogs in the military.