Nobody Home: Writing, Buddhism, and Living in Places (Paperback)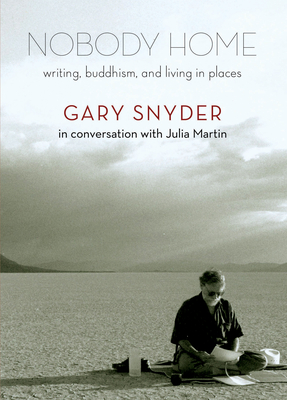 $17.95
Special Order—Subject to Availability
Description
---
In this thoughtful, affectionate collection of interviews and letters spanning three decades, beloved poet Gary Snyder talks with South African writer and scholar Julia Martin. Over this period many things changed decisively--globally, locally, and in their personal lives--and these changing conditions provide the back story for a long conversation. It begins in the early 1980s as an intellectual exchange between an earnest graduate student and a generous distinguished writer, and becomes a long-distance friendship and an exploration of spiritual practice. At the project's heart is Snyder's understanding of Buddhism. Again and again, the conversations return to an explication of the teachings. Snyder's characteristic approach is to articulate a direct experience of Buddhist practice rather than any kind of abstract philosophy. In the version he describes here, this practice finds expression not primarily as an Asian import or a monastic ideal, but in the specificities of a householder's life as lived creatively in a particular location at a particular moment in history. This means that whatever "topic" a dialogue explores, there is a sense that all of it is about practice--the spiritual-social practice of a contemporary poet.
About the Author
---
Gary Snyder is a poet, essayist, and environmental activist. He is the author of eighteen books, among them "Danger on Peaks"; "Mountains and Rivers Without End"; "No Nature," a finalist for the 1993 National Book Award; "The Practice of the Wild"; "Left Out in the Rain, New Poems 1947-1985"; "Axe Handles," winner of an American Book Award; and "Turtle Island," which received the Pulitzer Prize for poetry.

Snyder has been the subject of innumerable essays, five critical books, and countless international interviews. His work and thinking have been featured in video specials on BBC-TV and PBS, including Bill Moyers's The Language of Life PBS series, and in every major national print outlet.

Snyder's honors include the Wallace Stevens Award from the Academy of American Poets, an American Academy of Arts and Letters award, the Bollingen Prize, the John Hay Award for Nature Writing, a Guggenheim Foundation fellowship, the Bess Hokin Prize and the Levinson Prize from "Poetry," the Los Angeles Times Robert Kirsch Lifetime Achievement Award, the Ruth Lilly Poetry Prize, and the Shelley Memorial Award. He was elected a chancellor of the Academy of American Poets in 2003. He is a professor emeritus of English at the University of California, Davis.

Julia Martin is a South African writer and literary scholar. Her longstanding involvement in the work of Gary Snyder is part of a broader interest in ecological thought, metaphors of interconnectedness, and the representation of place. In addition to her academic work in ecocriticism she writes creative nonfiction. Her travel memoir, "A Millimetre of Dust: Visiting Ancestral Sites" (2008), is a narrative essay about archaeology and the apprehension of deep time. She lives with her family in Cape Town, where she teaches English at the University of the Western Cape.