Uncover a Shark [With a Three-Dimensional Model of a Shark] (Hardcover)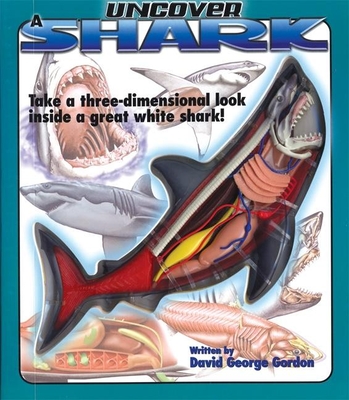 Description
---
Uncover one of the world's most fascinating and feared predatory creatures in this innovative 3-dimensional book. Uncover a Shark takes you on a whole new learning experience, layer-by-layer to provide children with an indepth and all encompassing understanding of the subject and its anatomy. Great Whites are one of the most feared and studied mammals of all time. This 16-page book examines the alluring Great White in detail. First the basic elements--their cartilaginous nature, teeth, fins, and gills--then more complex systems are detailed--the cardiopulmonary systems, digestive system, and the acute sensory systems. Each organ or system is intricately placed inside the book to provide a three dimensional view of its size in relation to the rest of the body. Each page is filled with interesting facts and detailed illustrations that desctibe each part.
Did you know that engineers study sharks in order to design better ships and rockets since the sharks body is well-suited to gliding through the water? Or that a great white can also eat 10 tons of meat a year but often go several days in between meals. Explore these questions and many others as Uncover a Shark takes you on a jouney you won't forget.
About the Author
---
Author David George Gordon is the award-winning author of 14 books on wildlife and wild places. He is a regular contributor to National Geographic Kids magazine and serves as the science writer for Washington Sea Grant Program, a branch of the National Oceanic and Atmospheric Administration, headquartered in the University of Washington in Seattle.
Praise For…
---
Covering a period of 450 million years, the reign of sharks has been three times longer than that of the dinosaurs and 100 times longer than our own! There were sharks in our oceans long before the first creatures crawled onto land, and even before the earliest insects took to the sky." from the book