We're following all official guidelines to keep ourselves healthy on the job, and as a result, shipping may be delayed.
You will receive an email from our web orders team confirming that your order has been processed.
We thank you for your support and your patience at this challenging time.
Keep a Pocket in Your Poem: Classic Poems and Playful Parodies (Hardcover)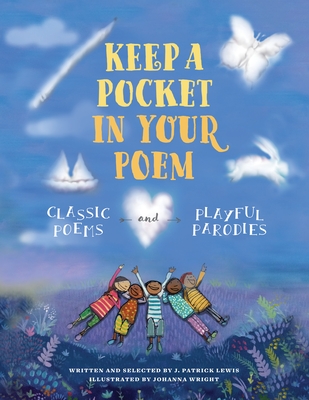 Description
---
Thirteen classic poems by poets such as Robert Frost, Langston Hughes, Emily Dickinson, and David McCord are paired with parodies written by J. Patrick Lewis that honor and play off of the original poems in a range of ways. For example, "Stopping by Woods on a Snowy Evening" is paired with "Stopping by Fridge on a Hungry Evening" to hilarious effect, whereas the combination of Emily Dickinson's "'Hope' is the thing with feathers" with Lewis's "'Grief' is the thing with tissues" is profound, and both David McCord's "This Is My Rock" and Lewis's "This Is My Tree" hum with a sense of wonder. This playful introduction to classics will inspire imagination and wonder even as it tickles funny bones.
About the Author
---
J. Patrick Lewis is the 2011 winner of the NCTE Award for Excellence in Poetry for Children and was the U.S. Children's Poet Laureate (2011–2013). His many books include If You Were a Chocolate Mustache, Face Bug, and Please Bury Me in the Library. He lives in Westerville, Ohio. jpatricklewis.com.

Johanna Wright has illustrated the Top-Secret Diary of Celie Valentine series published by Boyds Mills Press as well as her own picture books The Orchestra Pit, Bunnies on Ice, and The Secret Circus. She lives with her family in Portland, Oregon. johannawright.com
Praise For…
---
★ "With a mix of humor, wit, and whimsy, Lewis' latest poetry collection contains classic poems paired with his original versions. The illustrations...add to the whimsy brought to the classic poems. Whether you're sharing the joys of poetry by reading it aloud, introducing readers to poetry, or demonstrating how the classics can serve as inspiration for creative writing, this collection will meet your needs. Lewis' collection belongs in every library and poetry lover's collection. Highly Recommended." -- School Library Connection, starred review

"Kids bored by the usual collections of classic poems will appreciate this chuckle-worthy take, which pairs familiar verses with sometimes silly, sometimes thoughtful, always clever parodies. The varied selection of poems is well matched by Wrights multimedia illustrations...From short to long, and covering a broad scope of topics, these poems poking gentle fun at the form should find easy appeal, maybe even among kids reluctant to read poetry." -- Booklist

"Poem and parody face each other, nestled in colorful illustrations...A charming introduction to the carefully selected original poems and the delightful turns of phrase they have conjured up. ...Encourages young writers to try their hand at some spoofing of their own." -- School Library Journal

"Former Children's Poet Laureate Lewis gathers 13 poems, then pairs them with parodies that take the original works in unexpected directions, accompanied by Wright's smudgy, naïf artwork. Readers...may learn how writing a good (parody)...requires a solid awareness of the source material, something Lewis clearly demonstrates with his clever, funny, and visceral responses." -- Publishers Weekly