This House is Haunted (Paperback)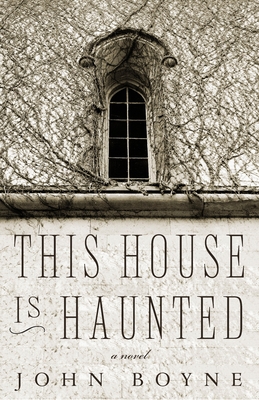 $14.95
Not On Our Shelves—Ships in 1-5 Days
Description
---
Written in Dickensian prose, This House Is Haunted is a striking homage to the classic nineteenth-century ghost story. Set in Norfolk in 1867, Eliza Caine responds to an ad for a governess position at Gaudlin Hall. When she arrives at the hall, shaken by an unsettling disturbance that occurred during her travels, she is greeted by the two children now in her care, Isabella and Eustace. There is no adult present to represent her mysterious employer, and the children offer no explanation. Later that night in her room, another terrifying experience further reinforces the sense that something is very wrong.
 
From the moment Eliza rises the following morning, her every step seems dogged by a malign presence that lives within Gaudlin's walls. Eliza realizes that if she and the children are to survive its violent attentions, she must first uncover the hall's long-buried secrets and confront the demons of its past. Clever, captivating, and witty, This House Is Haunted is pure entertainment with a catch.
About the Author
---
John Boyne was born in Ireland in 1971 and is the author of seven novels for adults and two for children. The Boy in the Striped Pajamas won two Irish Book Awards, was short-listed for the British Book Award, reached number one on the New York Times best sellers list, and was made into an award-winning Miramax feature film. His novels are published in more than forty languages. He lives in Dublin.
Praise For…
---
"Great fun… Boyne keeps up a constant barrage of surprises and the pace is terrific." —The Times (UK)

"An adventure that will delight Dickens fans and intrigue anyone who dares to follow her on her journey." —The Daily Express (UK)

"A perfect, shivery gothic tale." —Booklist 

"Like the writers of Victorian ghost tales to which he pays homage, Boyne is a master at creating an unsettling presence. This House Is Haunted gathers momentum right up to the stunning denouement, and ends with one word that serves as an icy finger down the spine." —Minneapolis Star Tribune

"Boyne's plotting and pacing are first-rate, and his mastery of the slow-boil is evident..." —The Daily Beast

"[This House Is Haunted] is a classic Dickensian ghost story, with an unexpected and horrific twist." —Glamour

"Boyne paints a picture that is both gloomy and thrilling, creepy and enticing...The result is a novel, just in time for Halloween, that is fast-paced, unputdownable, lively and intelligent, without being oppressively creepy." —The Record

"This House Is Haunted is a good old-fashioned ghost story—a real indulgence and a fine read all around." —Book Reporter

"John Boyne applies his dependably fluid writing style to this eerie Victorian ghost story, which offers an unsettling—in a good way—blend of the conventional and the unexpected...Boyne knows the precise moment to shake things up with a sudden, sharp surprise."—Reading The Past

"Literate horror fans will take wicked delight in [This House Is Haunted]..." —Bookpage

"Rife with Gothic elements, This House is Haunted will please fans of Jane Eyre, Ann Radcliffe and the like. A beautiful call back to the height of Gothic Literature." —The Readist

"'This House is Haunted by John Boyne is everything a classic ghost story should be...pure Gothic fun." —Fourth Street Review

"Fans of Gothic novels will definitely enjoy This House is Haunted. Its appeal, however, stretches further than to just those who are looking for an entertaining Gothic homage...[A]n alluring work of fiction that encompasses what we most look for in a novel." –Acid Free Pulp