We're following all official guidelines to keep ourselves healthy on the job, and as a result, shipping may be delayed.
You will receive an email from our web orders team confirming that your order has been processed.
We thank you for your support and your patience at this challenging time.
The Little Witch (Hardcover)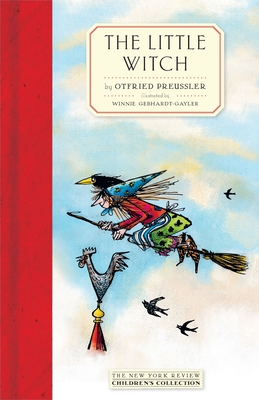 List Price: $16.95
Our Price: $15.95
(Save: $1.00 6%)
Description
---
"Once upon a time there was a little witch who was only a hundred and  twenty-seven years old"—that's how the story of the little witch and her talking raven Abraxas begins, and though one hundred and twenty-seven isn't at all old for a witch, Little Witch already has a big problem. Every year, on Walpurgis Night, all the witches of the land meet to dance on Brocken Mountain. Little Witch is still too little to be invited, but this year she decided to sneak in anyway—and got caught by her evil aunt Rumpumpel! Little Witch is in disgrace. Her broomstick has been burned. She's been made to walk home. She's been told that she has a year to pull off some seriously good witchcraft if she wants to be invited to Walpurgis Night ever. And then there's an even bigger problem: What after all does it mean to be a good witch? One way or another, by the end of the story, Little Witch will have proved herself to be the biggest and best witch of all.
About the Author
---
Ofried Preussler (1923–2013) was born into a family of teachers in Reichenberg, Czechoslovakia, and as a boy loved listening to the folktales of the region. Drafted into the army during World War II, Preussler was captured in 1944 and spent the next five years as a prisoner of war in the Tatar Republic. After his release, he moved to Bavaria and became a primary--school teacher and principal, supplementing his income by working as a reporter for a local newspaper and by writing scripts for children's radio. One of the most popular authors for children in Germany, Preussler was twice awarded the German Children's Book Prize. His many books have been translated into fifty-five languages and have sold over fifty million copies. New York Review Books also publishes Preussler's Krabat & the Sorcerer's Mill and The Little Water Sprite and will publish The Robber Hotzenplotz in 2016. 

Anthea Bell is a translator from the German, French, and Danish, and the winner of the Independent Foreign Fiction Prize, the Helen and Kurt Wolff Prize, and, three times over, the Marsh Award for Children's Literature in Translation. She has translated Asterix, Hans Christian Andersen, Cornelia Funke, Kerstin Gier, W.G. Sebald, Sigmund Freud, and several novels by Otfried Preussler.  

Winne Gebhardt-Gayler (1929–2014) was a German illustrator who was a frequent collaborator with Otfried Preussler.
Praise For…
---
"First published in 1957, this story of a young witch who's itching to become part of the grown-up witch world has a sprightly tone and a feel that's somewhere between fairy tale and Harry Potter. That's a sweet spot for magic-loving children just beginning to read on their own, and you don't see many books hit it this well. (It would be a fantastic read-aloud, too.)…There's a morally satisfying fairy-tale ending — a glorious moment of table-turning that speaks to our pent-up frustration at the arbitrary rules of the universe that put mean people in charge. The illustrations — charming, scratchy black-and-white line drawings by Winnie Gebhardt-Gayler — seem like they could have been done yesterday." —Maria Russo, The New York Times Book Review

"All children who tremble at the thought of witches - allay your fears! - For as of Walpurgis Night last, the bad witches have been rendered powerless and only one good little witch remains. How this came to be is the content of a delightful book to be read in episodes or at one happy sitting...How the little witch casts her most powerful spell will leave readers thoroughly satisfied and young bedtime listeners ready for only pleasant dreams." —Kirkus Reviews 

"Mr. Preussler's books were read aloud to generations of German children. They adored his characters."--Douglas Martin, The New York Times

"Elements of folklore in Preussler's books are intertwined with conversations, funny dialogue, discussions of old and young, and angry disputes that are rooted in the everyday life of families and school. Preussler revealed...that he possessed an almost inexhaustible fantasy, an unfailing sense of humor and situation comedy. German children between the ages of four and twelve are still his fans."--Horst Kunneman, Bookbird

Praise for Otfried Preussler's Krabat and the Sorcerer's Mill:

"One of my favorite books." --Neil Gaiman 

"In Preussler's masterpiece, the terror is real, the love sweet, and the suspense twisted tight." --J. Alison James