Why We Serve: Native Americans in the United States Armed Forces (Hardcover)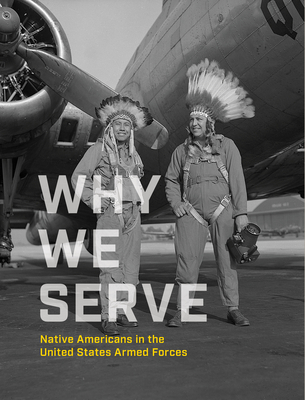 $29.95
Coming Soon—Pre-Order Now
Description
---
Rare stories from more than 250 years of Native Americans' service in the military

Why We Serve commemorates the 2020 opening of the National Native American Veterans Memorial at the Smithsonian National Museum of the American Indian, the first landmark in Washington, DC, to recognize the bravery and sacrifice of Native veterans. American Indians' history of military service dates to colonial times, and today, they serve at one of the highest rates of any ethnic group. Why We Serve explores the range of reasons why, from love of their home to an expression of their warrior traditions.

The book brings fascinating history to life with historical photographs, sketches, paintings, and maps. Incredible contributions from important voices in the field offer a complex examination of the history of Native American service. Why We Serve celebrates the unsung legacy of Native military service and what it means to their community and country.
About the Author
---
ALEXANDRA HARRIS and MARK HIRSCH are senior editor and historian, respectively, at the National Museum of the American Indian. Other contributors include Senator Ben Nighthorse Campbell (Northern Cheyenne), Representative Deb Haaland (Pueblo of Laguna), Representative Markwayne Mullin (Cherokee Nation), Kevin Gover (Pawnee), Jefferson Keel (Chickasaw), and Herman Viola.
Praise For…
---
BOOKLIST
"This is a unique, handsomely produced, deeply enlightening, and invaluable volume ideal for public library collections."

KIRKUS REVIEW
Starred Review. In a beautifully produced and illustrated volume commemorating the National Native American Veterans Memorial, Harris, senior editor and writer at Smithsonian's National Museum of the American Indian, and Hirsch, a historian at the museum, offer probing, informative essays examining Native Americans' participation in the armed forces. Drawing on interviews and historical documents, the authors show how motivations to serve were complex and varied: Some individuals wanted "to learn a trade, get an education, experience the thrill of piloting a jet, explore new life horizons, strike a blow for gender equality, or uphold family traditions of military service that stretch back for generations." Some were drafted; for others, the military "meant a job, meals, and stability that could not be found at home." Sometimes, the decision to align with the U.S. military was complicated by treaty alliances or tribal rivalries: "defense of territory, revenge, resources, and challenge to traditional enemies." In the cases of the Revolutionary War, the War of 1812, and the Civil War, Native Americans—who were not U.S. citizens and realized that the government was hostile to tribal autonomy and covetous of tribal lands—were forced to choose sides or remain neutral. During the Civil War, some tribes aligned with the Union, others with Confederates, all hoping to renegotiate treaties once the war was over. The authors focus chapters on Native American warrior traditions, participation in the Spanish-American War, World Wars I and II, Korea, Vietnam, and conflicts in the Middle East. They examine Native American service as scouts, interpreters, and intermediaries and offer many vivid profiles of individuals, personalizing the larger historical narrative. Although the authors write that the book is "a chronicle of ordinary men and women doing extraordinary things under often unforgiving circumstances," many profiled seem far from ordinary.