America's Marine Sanctuaries: A Photographic Exploration (Hardcover)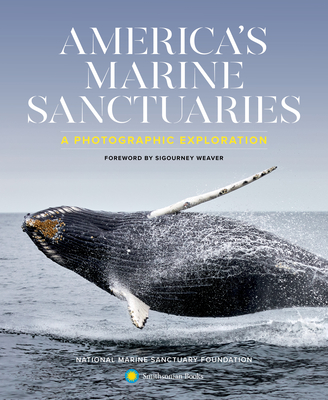 $34.95
In Stock—Click for Locations
Description
---
An extraordinary illustrated overview of the National Marine Sanctuary System and a guide to its fourteen protected underwater locations

America's Marine Sanctuaries tells the story of fourteen underwater places so important they are under special protection, together forming the US National Marine Sanctuary System. These sanctuaries, spanning more than 620,000 square miles and ranging from the Florida Keys to the Great Lakes and to the Hawaiian Islands, are critical and breathtaking marine habitats that provide homes to endangered and threatened species. They also preserve America's rich maritime heritage and act as living laboratories for science, research, education, and conservation, offering outdoor recreation experiences for all ages.

Through 175 full-color photographs and lively narrative, America's Marine Sanctuaries showcases each of the marine sanctuaries and the creatures that live there, from whales and manatees to Hawaiian monk seals and Laysan ducks, as well as sunken ships from the Ghost Fleet and USS Monitor to Shipwreck Alley. The book underscores how marine sanctuaries have shaped the nation's development, survival, and identity, and celebrates these protected underwater treasures for all they can tell us about our communities, our country, and our world.
About the Author
---
The NATIONAL MARINE SANCTUARY FOUNDATION works in partnership with the National Marine Sanctuary System and its individual sanctuaries and monuments to ensure a healthy and thriving future for the ocean and the Great Lakes.
Praise For…
---
BOOKLIST
"It's easy to appreciate the importance and splendor of national parks, but precious underwater reserves are out of sight and therefore out of mind. This entrancing volume freshly introduces readers to the marvels of the oceans, from the great gyres that churn the waters to the many forms of marine life—coral reefs and kelp forests, sea turtles, fish, whales, sea birds—that dwell on and near the dappled surface and at every level down to the deepest, most mysterious depths. [...] Vivid and informative commentary accompanies gorgeous color photographs to fully illuminate vibrant ecosystems of evolutionary ingenuity and intricate interconnectivity, inspiring awe and a sense of stewardship."