Before and after the Horizon: Anishinaabe Artists of the Great Lakes (Paperback)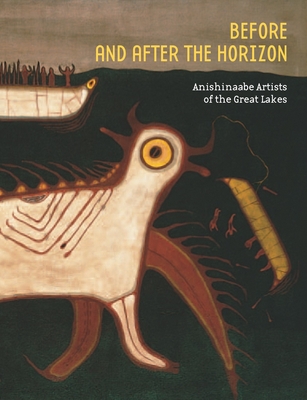 $24.95

Not On Our Shelves—Ships in 1-5 Days
Description
---
This companion volume to an exhibition at the National Museum of the American Indian in New York reveals how Anishinaabe (also known in the United States as Ojibwe or Chippewa) artists have expressed the deeply rooted spiritual and social dimensions of their relations with the Great Lakes region. Featuring 70 color images of visually powerful historical and contemporary works, Before and After the Horizon is the only book to consider the work of Anishinaabe artists overall and to discuss 500 years of Anishinaabe art history.
About the Author
---
DAVID PENNEY is the associate director of museum scholarship at the Smithsonian's National Museum of the American Indian. He recently published North American Indian Art as part of the Thames and Hudson "World of Art" series. He is the author of many additional books, exhibition catalogues, and published essays.
Praise For…
---
LIBRARY JOURNAL

The Great Lakes provide a unique locale; there is no other place on earth that compares. There is a certain spirituality created with this combination of earth, water, and sky, all done up in broad strokes. These lakes are home to the Anishinaabe people, who take great inspiration from their surroundings and history. In the panorama of works presented in this book, we meet two important characters, Thunderbird and Underwater Panther, and we watch their development over time via their representation in works of art, from woven bags to Day-Glo paintings. We are also introduced to a variety of important Anishinaabe artists such as George Morrison, who inspired the title with his use of the Great Lakes horizon as a metaphor for the line between the known and the unknown, before and after the horizon. Or, Norval Morrisseau, whose work focuses on the transitional nature of things. Artists Christi Belcourt, Robert Houle, Daphne Odjig, and Blake Debassige introduce the reader to their cultural identity and remind us that"…sand and people change, but place remains the same." [This book accompanies an exhibition of the same title that opened in August, 2013 and continues through June, 2014 at the National Museum of the American Indian in New York, NY.—Ed.]
Verdict A good book for armchair travelers and connoisseurs of the Great Lakes region, as well as seasoned scholars.—Nadine Dalton Speidel, Cuyahoga Cty. P.L., Parma, OH

BOOK NEWS

The colors are bold, the images are startlingly representative, the urge to communicate informs every object. This companion volume to the exhibition at the National Museum of the American Indian in New York reveals how the Anishinaabeg (a group that includes the Ojibwes and Chippewas) have expressed their spiritual and social dimensions of their close relationship with the Great Lakes region. Contributors examine the Anishinaabes' contact with earth, water and sky; analyze narrative images of the thunderbird and the underwater panther; discuss the artists' art, agency, and exchange across time; and elucidate the Anishinaabe's artistic consciousness. They close with an excerpt from Shrouds of White Earth, a "cosmoprimative" literary piece. The volume is fully, and beautifully, illustrated.