Capital Views: Historic Photographs of Washington, DC, Alexandria and Loudoun County, Virginia, and Frederick County, Maryland (Hardcover)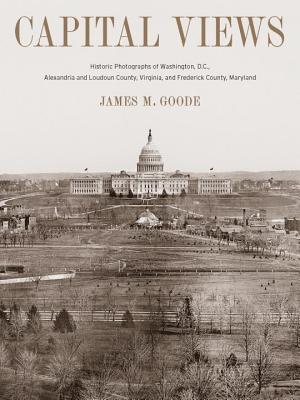 $39.95

Special Order—Subject to Availability
Description
---
Metropolitan areas change over the time. These changes come together and create a city's character and personality. Renowned Washington, DC, historian James Goode has assembled an incredible collection of images that look back at a Washington before it developed into the international metropolitan city it is today. The impactful historic photography exposes the elements of the DC metro area that have disappeared: the dairy farms of Loudoun County, the railroad round house in Alexandria, and model boats on the Rainbow Pool on the National Mall, as well as provide startling different views of areas and neighborhoods that still exist. The majority of these images have never been published, and under the curatorial eye of James Goode have been put together in a way that give readers a better understanding of the city Washington DC was, and the city it was to become.
About the Author
---
James Goode is the winner of Washingtonian magazine's prestigious "Washingtonian of the Year" award. He is the author of Capital Losses: A Cultural History of Washington's Destroyed Buildings, Second Edition and Best Addresses:  A Century of Washington's Distinguished Apartment Houses.  He lives in Washington, DC.
Praise For…
---
LIBRARY JOURNAL


Through lively, descriptive text and a treasure-trove of historical photographs (many never before published), historian Goode (
Capital Losses: A Cultural History of Washington's Destroyed Buildings
) has woven a wonderful story of Washington, DC, and its surrounding suburban communities. The author, who has made a life's work of the capital's history and authored four previous books about Washington, artfully selected and organized this book around eight thoroughly enjoyable chapters: the National Mall; Market Square; the Hay-Adams Houses; Washington, DC, in 1908; Washington, DC, in the 1930s; Lost Landmarks of Alexandria, VA; Loudoun County, VA; and Frederick County, MD. Many of the images feature familiar and not-so-familiar landmarks, accompanied by brief histories and interspersed with photographs of people at work and play in a variety of activities. These latter images, in particular, offer a touching, human quality to this photo-essay and reminds readers that Washington, DC, is not only a center of politics but of people going about their everyday lives.
Verdict
Anyone interested in historical photography and American social and cultural history, especially of the nation's capital, will love this book. Highly recommended.—Raymond Bial, First Light Photography, Urbana, IL
CHOICE

The author is a noted Washingtonian whose earlier books, like this one, inform readers about what has been lost (Capital Losses, 1979) and what has been lost and still survives (Best Addresses, 1988, about apartment buildings; Washington Sculpture: A Cultural History of Outdoor Sculpture in the Nation's Capital volume, which originated in an exhibition, ranges all across the city's public and private dwellings and extends to nearby towns (Alexandria) and counties (Loudoun, Frederick). The author spent years collecting the photographs, most of them previously unpublished, from a multitude of sources. Their chronology ranges from the early years of photography to Lyndon Johnson at Camp David and runs from the Mall and Capitol to Jackie Kennedy and her horse Sardar. An introduction to each of the eight chapters presents a concise review of the subject's topographic and historical place, and each photograph (one to three on each two-page spread) has an equally concise and informative caption. The heavy coated stock allows the photos and the few maps to be crisply and sharply published in this well-designed, handsome, and pleasurable book. Strong binding with back matter that includes acknowledgments and illustration credits.--W. Westfall, University of Notre Dame Summing Up: Recommended. Lower-division undergraduates and above; general readers.
PUBLISHERS WEEKLY

Historian Goode (Washington Sculpture: A Cultural History of Outdoor Sculpture in the Nation's Capital) has compiled a fascinating photographic history of the D.C. metro area. From steam locomotives and log cabins to the start of the National Zoo and National Airport, his selection of images shows how the city became what it is today. The large format invites readers to absorb the many details contained in the sepia-toned photographs, which span the period from the 1850s to the 1960s. Goode organizes chapters by location: the National Mall; Market Square; the Hay-Adams Houses; D.C. in 1908 and the 1930s; Alexandria and Loudoun County, Virginia; and Frederick County, Maryland. The accompanying text and detailed captions highlight D.C.'s transitory nature, with many sites hosting generations of buildings. Readers will be amused (by President Taft's pet cow), nostalgic (for streetcars, which might have prevented modern D.C.'s gridlock), and educated, such as about the early history of towns now largely relegated to exurb and suburban sprawl. This volume comes highly recommended for local historians, residents, and anyone else interested in the history of Washington, D.C. and its surrounding area.