Madcap May: Mistress of Myth, Men, and Hope (Hardcover)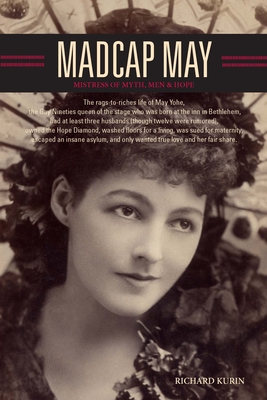 $27.95

Special Order—Subject to Availability
Description
---
May Yohe was a popular entertainer from humble American origins who married and then abandoned a wealthy English Lord who owned the fabled Hope diamond--one of the most valuable objects in the world and now exhibited at the Smithsonian Institution in Washington, D.C. May was a romantic who had numerous lovers and at least three husbands--though the tabloids rumored twelve. One included the playboy son of the Mayor of New York. May separated from him--twice--and cared for her next husband, a South African war hero and invalid whom she later shot.

Crossing the paths of Ethel Barrymore, Boris Karloff, Oscar Hammerstein, Teddy Roosevelt, Consuelo Vanderbilt, and the Prince of Wales, May Yohe was a foul-mouthed, sweet-voiced showgirl who drew both the praise and rebuke of Nobel laureate George Bernard Shaw. Nicknamed "Madcap May," she was a favorite of the press. In later years she faced several maternity claims and a law suit which she won. She was hospitalized in an insane asylum and escaped. She ran a rubber plantation in Singapore, a hotel in New Hampshire, and a chicken farm in Los Angeles. When all else failed, she washed floors in a Seattle shipyard, and during the Depression held a job as a government clerk. Shortly before her death, she fought, successfully, to regain her lost U.S. citizenship.

How was this woman, May Yohe, able to charm her way to international repute, live an impossible life, and also find the strength to persevere in light of the losses she suffered--in wealth, citizenship, love, and sanity? Madcap May, assembled from her writings and historical interviews, archival records, newspaper stories, scrapbooks, photographs, playbills, theatrical reviews, souvenirs, and silent film, tells her heretofore lost story.
About the Author
---
RICHARD KURIN is the Under Secretary for History, Art, and Culture at the Smithsonian Institution. A former Fulbright fellow with a Ph.D. from the University of Chicago, he is the author of Hope Diamond: The Legendary History of a Cursed Gem and Reflections of a Culture Broker: A View from the Smithsonian. Kurin has been awarded the Smithsonian Secretary's Gold Medal for Exceptional Service and the American Folklore Society's Botkin Prize for lifetime achievement.
Praise For…
---
PUBLISHERS WEEKLY


Kurin (Hope Diamond: The Legendary History of a Cursed Gem), the under secretary for history, art, and culture at the Smithsonian Institution, offers an engaging portrait of a forgotten icon: the once famous "Madcap" May Yohe (1866–1938). Born to innkeepers in Bethlehem, Pa., May grew up to be a world-renowned stage actress of the early 20th century, as famous for her roles as for her love life. The tallest tales can be found in the truest stories, and Yohe lived a life full of such exoticism—her collection of pets just a minor example of her flamboyance—that today's celebrity antics seem quaint by comparison. After multiple scandalous dalliances and engagements, she married Lord Hope—of the Hope Diamond—and later divorced him for the dashing son of New York political royalty. Both men were disappointments, but the trials of love could not stop this stage goddess from her calling. Kurin's breezy biography transports the reader to the pomp of a lost era and shows us a diva who entertained, enraged, and surprised a nation through the end of one century and the beginning of the next. Kurin rediscovered Yohe in his research around the Hope Diamond and its legend; his portrait of this madam of the stage is a credit to her one-time notoriety and lingering ghost. Photos. (Sept.)
LIBRARY JOURNAL
New York City in the 1890s—it was the Gilded Age, and sumptuous gluttony was the norm. Every night the theater district overflowed with lobster parties, diamond-studded bachelors, and scandalous women. Singer and musical theater actress May Yohe was one of the most notorious women of the era, whose life was seemingly tailor-made for the gossip columns. In this first biography of Yohe, Kurin (undersecretary for history, art, & culture, Smithsonian Inst.; Hope Diamond: The Legendary History of a Cursed Gem) explores her trajectory from poverty to worldwide acclaim (and to wearing the Hope Diamond) to scrubbing floors during the Great Depression. Yet behind the drama and the headlines was an individual with that rare mix of intelligence, naïveté, spunk, and optimism, who saw life as a great adventure even amid tragedy. VERDICT While not as well known today as Lillian Russell or Anna Held, Yohe was a true Gay Nineties superstar, and Kurin wonderfully reveals the woman behind all of the brilliant facets. This biography will appeal to social and theater historians, those interested in women in theater, and anyone looking for a delicious story of a decadent age.—Teri Shiel, Westfield State Univ. Lib., MA
BOOKLIST


Temptress, singer, farmer, nurse. Gold digger, feminist, innkeeper, cook. May Yohe played many roles during the course of her tumultuous life, and though she achieved international fame as an actress, her most controversial scenes most often took place offstage rather than on. Born in 1866 in the little town of Bethlehem, Pennsylvania, Yohe grew up within its tight-knit Moravian religious community, and was instilled with a strong sense of individualism and self-worth that translated into a devious vein of ambition and self-preservation. A precocious child turned alluring young woman, Yohe embraced the theater, quickly capturing the attention of English nobleman Lord Francis Hope, owner of the eponymous diamond so often associated with misfortune. Indeed, adversity plagued Yohe throughout her life, in the form of multiple marriages, scandalous affairs, an unpredictable career, and unspeakable poverty. Her reckless behavior, dissipated lifestyle, acerbic wit, and wanton pursuit of the limelight made Yohe the Lindsay Lohan/Elizabeth Taylor/Dorothy Parker of her day. Smithsonian scholar Kurin vividly brings to life and light a wrongfully overlooked American femme fatale.— Carol Haggas