War Games: Inside the World of Twentieth-Century War Reenactors (Paperback)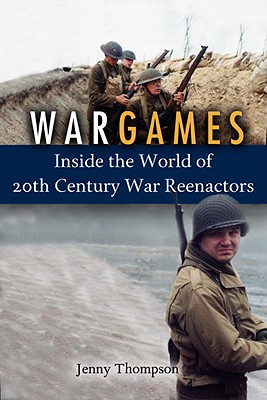 $25.95
Not On Our Shelves—Ships in 1-5 Days
Description
---
D-Day with beach umbrellas in the distance? Troops ordering ice cream? American and German forces celebrating Christmas together in the barracks? This could only be the curious world of 20th-century war reenactors. A relatively recent and rapidly expanding phenomenon, reenactments in the United States of World War I, World War II, the Korean War, and the Vietnam War now draw more than 8,000 participants a year. Mostly men, these reenactors celebrate, remember, and re-create the tiniest details of the Battle of the Bulge in the Maryland Woods, D-Day on a beach in Virginia, and WWI trench warfare in Pennsylvania.

Jenny Thompson draws on seven years of fieldwork, personal interviews, and surveys to look into this growing subculture. She looks at how the reenactors' near obsession with owning "authentic" military clothing, guns, paraphernalia, and vehicles often explodes into heated debates. War Games sheds light on the ways people actually make use of history in their daily lives and looks intensely into the meaning of war itself and how wars have become the heart of American history. The author's photographs provide incredible evidence of how "real" these battles can become.
About the Author
---
Jenny Thompson spent seven years attending war reenactments and getting to know their participants. She has taught American studies and history at the University of Maryland and Roosevelt University and lives in Evanston, Illinois.
Praise For…
---
"This strange, enthralling book on twentieth-century war reenactors becomes a wonderful case study on the power of history in our lives: history as a sort of Grail quest, history as fetish, history as reality itself. Thompson's reporting on these quarrelsome and oddly self-loathing people is exhaustive. Her analyses of the meaning of memory to them and, ultimately, to all of us, have a subtle precision that recalls the methodology of Proust."—Henry Allen, author of What It Felt Like—Living in the American Century and winner of the Pulitzer Prize for criticism

"Thompson writes with the eye of an ethnographer, the ear of a novelist, and the voice of a pop singer with a feel for a groove. War Games showcases a bona fide democratic approach to history—with all that implies. Along the way, we're reminded how much our notions of the past inform the way we live now."—Jim Cullen, author of The Civil War in Popular Culture and The American Dream

"Exciting, valuable, and engaging, Thompson takes us inside the disturbing world of war reenactment and explores the important questions it raises about war, history, memory, gender, authenticity, and imagination."—John L. Caughley, professor of American studies, University of Maryland, and author of Imaginary Social Worlds: A Cultural Approach

"Jenny Thompson makes you laugh and makes you cry. She shows us the whole that is America: ordinary men who lead partial lives where their emotional emptiness is met through camaraderie in playing army. An empty America is the result."—Mark Leone, professor of anthropology, University of Maryland, and author of Invisible America, with Neil A. Silberman

"Donning uniforms and fully participating in several war reenactments, Thompson brings us all the chaos, noise, pain, exhaustion, fear, and adrenaline rush of close combat in a recreated war."—Jay Mechling, professor of American studies, University of California, Davis, and author of On My Honor: Boy Scouts and the Making of American Youth