Living Our Cultures, Sharing Our Heritage: The First Peoples of Alaska (Hardcover)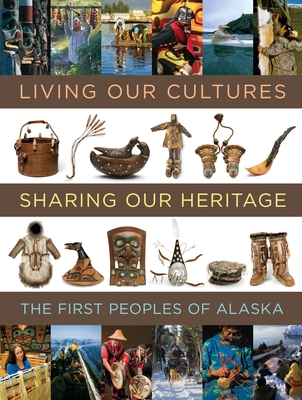 $50.00

Not On Our Shelves—Ships in 1-5 Days
Description
---
Living Our Cultures, Sharing Our Heritage: The First Peoples of Alaska features more than 200 objects representing the masterful artistry and design traditions of twenty Alaska Native peoples. Based on a collaborative exhibition created by Alaska Native communities, the Smithsonian's National Museum of Natural History, the Smithsonian's National Museum of the American Indian, and the Anchorage Museum at Rasmuson Center, this richly illustrated volume celebrates both the long-awaited return of ancestral treasures to their native homeland and the diverse cultures in which they were created.

Despite the North's transformation through globalizing change, the objects shown in these pages are interpretable within ongoing cultural frames, articulated in languges still spoken. They were made for a way of life on the land that is carried on today throughout Alaska. Dialogue with the region's First Peoples evokes past meanings but focuses equally on contemporary values, practices, and identities.

Objects and narratives show how each Alaska Native nation is unique—and how all are connected. After introductions to the history of the land and its people, universal themes of "Sea, Land, Rivers," "Family and Community," and "Ceremony and Celebration" are explored referencing exquisite masks, parkas, beaded garments, basketry, weapons, and carvings that embody the diverse environments and practices of their makers. Accompanied by traditional stories and personal accounts by Alaska Native elders, artists, and scholars, each piece featured in Living Our Cultures, Sharing Our Heritage evokes both historical and contemporary meaning, and breathes the life of its people.
About the Author
---
Aron L. Crowell is an anthropologist who works with indigenous communities of the north in the fields of cultural research, archaeology, oral history, and collaborative heritage. As Alaska Director for the Smithsonian's Arctic Studies Center, he has curated or co-led major exhibitions including Looking Both Ways: Heritage and Identity of the Alutiiq People, Crossroads of Continents: Cultures of Siberia and Alaska, and Gifts from the Ancestors: Ancient Ivories of Bering Strait. Crowell lives in Anchorage, Alaska.
Praise For…
---
From CHOICE
Prepared to accompany the Smithsonian exhibition titled Living Our Cultures, Sharing Our Heritage: The First Peoples of Alaska, which will be on display at the Anchorage Museum until at least 2017, this handsomely illustrated volume presents illustrations and descriptions of one-third of the approximately 600 objects on display from at least 20 different cultural groups within Alaska. Selected from collections at the Smithsonian's National Museum of Natural History and National Museum of the American Indian, many of these objects were obtained by the diverse expeditions that began to collect Native artifacts from Alaska in the mid-19th century. Perspective on these objects is provided not only by a succinct introduction to Alaska, its landscape, history, culture, and peoples, but also by having Native representatives of the First Peoples comment on the fundamental features of their lives and what was essential in their specific culture. Including these essays by Alaskan Natives is a particularly engaging method for providing their insights into and perspectives on their lives and the changes that are overwhelming their cultures. The work is enhanced as well by numerous historical, period, and contemporary photographs and illustrations of the lives of the distinct cultural communities within Alaska. Summing Up: Recommended. Lower-level undergraduates, general readers, and professionals/practitioners. -- P. D. Thomas, emeritus, Wichita State University
"
Living Our Cultures: Sharing Our Heritage: The First Peoples of Alaska is one of the finest recent publications on Native American art and culture. It is gorgeous, interesting, educational, and a model for how established major museums can work successfully with originating communities to create an exhibition and a catalog that replaces thetroubled history of museums and Native people with a celebration of collaboration and cultural vitality."--Museum Anthropology Review

"The power, creativity, and functionality of Indigenous societies is defined beautifully in this book."--American Indian Quarterly

"Richly illustrated and beautifully written, this book embraces Alaska Native art and design masterworks with insight from Alaska Native elders, artists, and scholars. It is a communal welcome, an acknowledgment of the spiritual and social meaning of traditional objects and their importance to Alaskans' lives today and to our future."—Fran Ulmer, Chancellor, University of Alaska Anchorage

"Likoodzí (fantastic) yaa x'úx' (this book). Tlingit is my first language, so these were the words in my mind. Haa Shaagoon aya haa eet x'eiwatán—it is as if our Ancestors have spoken to us. When community experts viewed these objects for the first time, the sacret objects awakened in them the ancestors' spirits."—Elaine Chewshaa Abraham, Chairperson of the Board, Alaska Native Science Commission.

"Living Our Cultures, Sharing Our Heritage: The First Peoples of Alaska is a fine example of the new collaborative work that brings together Native Americans and anthropologists as equal partners. One learns so much about Alaska Native lives, beliefs, and values."—Sergei Kan, Professor of Anthropology and Native American Studies, Dartmouth College