The Whole Hog: Exploring the Extraordinary Potential of Pigs (Hardcover)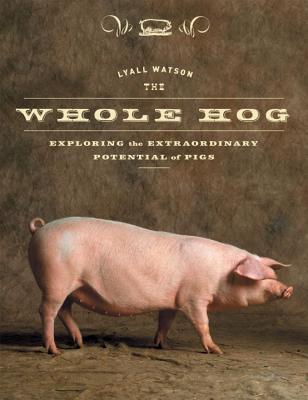 $24.95

Special Order—Subject to Availability
Description
---
Not all animals are created equal. For a start, pigs have it, sheep don't; that is, that special quality of intelligence, a sense of play, and a gregariousness that make these tragically misunderstood—yet no less endearing—creatures more like us than any other animal. Best-selling author Lyall Watson takes a delightful look at the occasionally amusing, often instructive, and completely admirable qualities of pigs in this indispensable book, not only for everyone interested in natural history but also for fans of Babe, lovers of Piglet, readers of Charlotte's Web and Animal Farm, gourmands and truffle hunters, folklorists, and, of course, believers in meaningful interspecies communication.

The book is filled with both realistic and wonderfully fanciful illustrations of pigs that illuminate everything you could possibly want to know about the extraordinary family of Suids, from their origins and evolution, rich social lives, and combat strategies, to their special relationship with truffles, popularity in art and literature, and increasing use today in cutting-edge medical transplant technology.
About the Author
---
Lyall Watson was born and raised in Africa and holds degrees in geology, botany, zoology, and anthropology. He has written more than 20 books, including the bestselling Supernature, Jacobson's Organ, and Elephantoms. He lives in Santa Fe.
Praise For…
---
"Naturalist Watson offers a worthy successor to 2002's well-received Elephantoms with an entertaining and highly informative survey of the humble pig that blends scientific fact with personal insight. Watson investigates several distinct pig types, including bushpigs, wild boars, forest hogs and peccaries ("Honorary Pigs"), and offers anecdotes about his childhood pet warthog. . . . Anthropology, biology, geography, psychology are all here in a clearly written, amiable text peppered with trivia tidbits (Josephine Baker used perfumed dancing pigs in her stage act) and lots of pictures. Even those who read but a handful of pages will find their opinion of pigs much rosier."—Publishers Weekly

"Enlivening the text with stories from his own encounters with pigs, Watson adds a personal touch that makes all the facts read like fiction, with period illustrations, photographs, and drawings adding further charm. The extensive notes and bibliography complete what will become the sine qua non of books on swine."—Booklist