We're following all official guidelines to keep ourselves healthy on the job, and as a result, shipping may be delayed.
You will receive an email from our web orders team confirming that your order has been processed.
We thank you for your support and your patience at this challenging time.
Misadventures of the Most Favored Nations: Clashing Egos, Inflated Ambitions, and the Great Shambles of the World Trade System (Hardcover)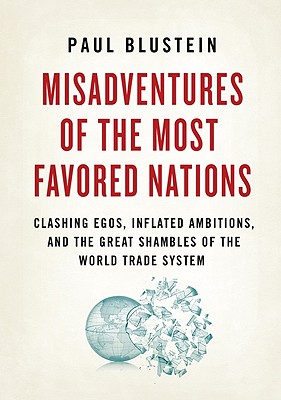 Out of Print in This Format
Description
---
As a linchpin of global capitalism, the World Trade Organization is both revered and reviled. In this book, financial journalist Paul Blustein tells the surprisingly entertaining and compelling story of how the WTO is sliding into dysfunctionality--which poses a new and grave menace to globalization itself.
In more than seven years of global talks the WTO has struggled and failed to resolve contentious differences between rich and developing nations. Now, with a worldwide recession underway, the WTO's failure is contributing to a rise in protectionism--a sign that the world may not be so flat after all. Misadventures of the Most Favored Nations recounts, in vivid detail, how the highstakes negotiations went awry. At risk, Blustein argues, is the fate of the system that for six decades has opened the global economy and kept it from splintering.
About the Author
---
Paul Blustein is Journalist in Residence at the Global Economy and Development Program at the Brookings Institution. For twenty years he was a staff writer at the Washington Post, where he covered business and economic issues. His work has won several prizes, including business journalism's most prestigious, the Gerald Loeb Award. Blustein lives in Bethesda, MD.
Praise For…
---
Library Journal
"The World Trade Organization (WTO) is a mess. That's the unavoidable conclusion of Blustein's latest title…. Blustein does a remarkable job of getting behind the scenes of negotiations at the WTO, a controversial organization best known to the public as the object of violent protests during a WTO ministerial conference in Seattle in 1999. Despite the complexity of the topic, he avoids jargon, makes obscure issues accessible, and does a good job of capturing the essence of the many major players…. With its insiders' views, Blustein's account will greatly intrigue those studying or working in international trade and development."

William Bernstein, Washington Post
"Blustein has thoroughly mastered the craft of breathing life into intrinsically dull material with compelling thematic narrative and delicious character studies…. Unlike many journalists, the author excels not only at the 800-word dash, but also at the long form, skillfully interweaving both his characters and engaging vignettes through the larger loom of world events. The further the author strays from the gilded, stilted venues of the trade negotiations, the more he sparkles. The few pages spent with Honduran textile worker Daunbia Rodriguez alone are worth the price of the book…. A shimmering, essential read for those seeking a deeper and more nuanced perspective on the modern commerce of nations."

David Lynch, USA Today
"A richly nuanced analysis…. Blustein's even-handed mastery of his subject does justice to every important perspective, not just those of advanced economies…. His thoroughly reported account will be must reading for those who wonder how and why global trade policy is made."

The Economist
"Entertaining…. Mr Blustein has mined a wealth of material, some of it from notes and recollections of those present at closed-door meetings. He has an eye for detail which illuminates the personalities and political motivations of the changing cast of characters involved in haggling over trade barriers. All this ensures that this book is lively enough to engage even those with only a passing interest in the intricacies of global trade talks. But he is also an able guide to the details of such negotiations. That he is able to do this without inundating readers with a flood of incomprehensible acronyms is no mean feat."