A Question of Freedom: A Memoir of Learning, Survival, and Coming of Age in Prison (Hardcover)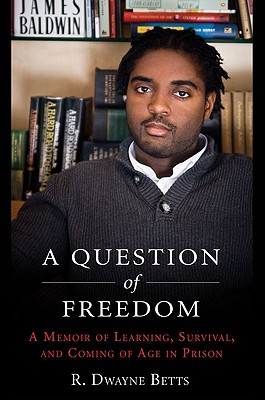 $23.00
Special Order—Subject to Availability
Description
---
A powerful debut memoir from a published poet and emerging writer.

At the age of sixteen, R. Dwayne Betts-a good student from a lower-middle-class family-carjacked a man with a friend. He had never held a gun before, but within a matter of minutes he had committed six felonies. In Virginia, carjacking is a "certifiable" offense, meaning that Dwayne would be treated as an adult under state law. A bright young kid, weighing only 126 pounds-not enough to fill out a medium T-shirt-he served his eight-year sentence as part of the adult population in some of the worst prisons in the state.

A Question of Freedom is a coming-of-age story, with the unique twist that it takes place in prison. Utterly alone-and with the growing realization that he really is not going home any time soon-Dwayne confronts profound questions about violence, freedom, crime, race, and the justice system. Above all, A Question of Freedom is about a quest for identity-one that guarantees Dwayne's survival in a hostile environment and that incorporates an understanding of how his own past led to the moment of his crime.
Praise For…
---
"Dwayne Betts was incarcerated for 9 years in an unforgiving place?a place in which he also discovered the incredible power of books and reading. He's written his own life-changing book, which may well prevent other young men from making that detour to prison. A searing and ultimately uplifting story." ? Hill Harper, Best selling author of Letters to a Young Brother and Letters to a Young Sister.

"I'm so happy to have been introduced to the miracle that is R. Dwayne Betts' A Question of Freedom. It tells so many important stories: of senseless violence that plagues our streets, the devastating affect our prison system is having on so many young African-American males and the struggles we must all experience before we can find redemption. But perhaps most importantly, it's a story about the power of consciousness. A reminder that no matter how confining our surroundings might seem or how bleak our future might look, as long as we are in touch with our higher selves, we can always tap into both the compassion and the toughness that is in all of our hearts. Betts is a major new voice in hip-hop and I look forward to being inspired by him for years to come." -Russell Simmons, author of Do You: 12 Laws to Access the Power in You to Achieve Happiness and Success.

"This book is a lesson on living. How does one become a man after being in a cell? A Question of Freedom is not a book of answer. Instead, this memoir is a reminder that a black boy can turn his world around. Betts shows us that words are key. This book will unlock your compassion." --E. Ethelbert Miller, Director of the African American Resource Center, Howard University

"At last a clear defining voice to express the feelings and hardships of so many young black boys trapped in America's prisons. A survivor among the countless lost souls, Dwayne loudly demands to be heard--in a soft and honest tone. A magnificent journey!" - -Lou Ferrante, author of Unlocked: The Life and Crimes of a Mafia Insider

"A Question of Freedom is a must-read and should be required reading for all those young sons and grandsons and brothers and nephews and uncles who believe this can't happen to them; it can, even if they can't wrap their brains around such a concept." - Baltimore Times
Coverage from NPR