We're following all official guidelines to keep ourselves healthy on the job, and as a result, shipping may be delayed.
You will receive an email from our web orders team confirming that your order has been processed.
We thank you for your support and your patience at this challenging time.
Esquivel! Space-Age Sound Artist (Hardcover)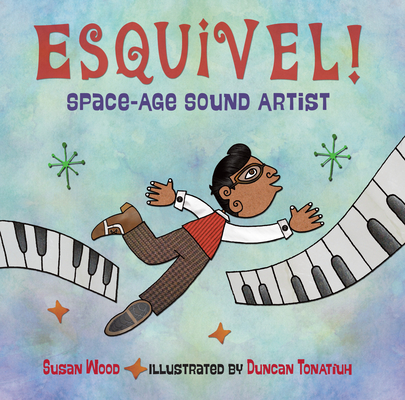 $17.95
Not On Our Shelves—Ships in 1-5 Days
Description
---
A playful picture-book biography of the father of space-age bachelor-pad lounge music.

Gorgeously illustrated by Duncan Tonatiuh, this lively biography follows Juan Garcia Esquivel from Mexico to New York City. Juan grew up to the sounds of mariachi bands; he loved music and became a musical explorer. Defying convention, he created music that made people laugh and planted images in their minds. His musical dreams brought him from Mexico to America and gained him worldwide renown. Juan's space-age lounge music—popular in the fifties and sixties—has found a new generation of listeners. This account honors Esquivel as one of the great composers of the 20th century.
About the Author
---
Susan Wood, writing formerly as Susan VanHecke, is the the author of RAGGIN' JAZZIN' ROCKIN': A HISTORY OF AMERICAN MUSICAL INSTRUMENT MAKERS (Boyds Mills Press, ALA Notable Children's Book) and UNDER THE FREEDOM TREE, as well as several books for adults. Susan lives in Norfolk, Virginia.
Praise For…
---
Much as Juan García Esquivel (1918–2002) made a great contribution to music history, this title is an important addition to music biography collections. Beginning with Tampico, Mexico, the text and illustrations work together to showcase how a world filled with sound influenced and inspired a young Esquivel and continued to do so throughout his life. Esquivel is shown listening to "whirling" mariachi bands, modifying a player piano to suit his own compositions, experimenting with unusual instruments like the theremin, and conducting musicians in unique and unprecedented ways. The text explores how Esquivel's love of sound led to new ways of making music, most notably in his pioneering of stereo sound and lounge music. Tonatiuh's illustrations are lively and colorful—-a perfect match for Esquivel's personality and work. Occasional blocks of text make this title best suited for upper elementary students. Back matter includes an author's note expanding on Esquivel's influence and an illustrator's note on how the art was created. A beautiful addition to music biography collections for upper elementary students.
- School Library Journal, starred review

Wood and Tonatiuh combine to tell the story of a musician and composer kids have likely never heard of. At 6, Juan García Esquivel figured out how to disable the paper roll in his family's player piano, leaving him free to experiment and learn how to play the instrument himself. This spirit of experimentation never left Juan, who went on to become a pioneer in a quirky, innovative style of lounge music popular in the 1950s and '60s. Esquivel!, as he became known, combined Latin rhythms, jazz, human voices, and unusual instruments in order to create unique musical textures and effects. During his career, Juan became popular in both Mexico and the United States, and he wrote many songs for TV shows and movies. The narrative presents the biographical facts of Juan's life in an engaging and accessible manner. Young readers who have never before heard of this musician may find their curiosity piqued. However, it is Tonatiuh's illustrations that truly spark the imagination. Tonatiuh employs his signature style of Mixtec codex-influenced design, combines it with playful tributes to the fashion and style of the 1960s, sprinkles in text blocks of onomatopoeia that seem to vibrate on the page, and fills in the empty areas with a watery mix of purples and blues that perfectly complements the spacey style expressed in the music. A lively introduction to a somewhat obscure and profoundly innovative musical figure.
- Kirkus Reviews

Juan Garcia Esquivel created out-of-this-world sounds, and Wood (formerly VanHecke) and Tonatiuh capture the fascinating story of Esquivel's musical talent in this picture-book biography. Esquivel was a young boy in Tampico, Mexico, when he discovered his love for music. He taught himself to play the piano, and before he knew it he was conducting orchestras and composing music. Esquivel is revered for his innovative sounds that were said to transport listeners to other worlds. His music was so popular that his fans donned him Esquivel!--with an exclamation point! Wood's story provides insight to the making of a magnificent musician and incorporates enough sound effects (wheedy-whee!, blap!, bowm-bowm!) to make Esquivel proud. Energetic collage illustrations complement the text by allowing readers to see Esquivel's sounds and his love for music. Sibert Award winner Tonatiuh (Funny Bones, 2015) draws in his well-known style inspired by the Mixtec codex, where characters are represented in profile. Back matter includes an author's note with supplementary information on Esquivel's life, an illustrator's note on the artwork, and additional resources.
- Booklist

Wood (Under the Freedom Tree) and Tonatiuh (Funny Bones) team up to recount the life of Juan Garcia Esquivel (1918-2002), who grew up with music in Mexico, "where whirling mariachi bands let out joyful yells as they stamped and strummed," and made it his life's work as a bandleader and composer. Tonatiuh's Mexican-art-inspired collages translate smoothly to the 1950s and '60s, when Esquivel was at the height of his creative output, creating lounge music using newly developed stereo recording technology. Wood's straightforward narration moves readers briskly through the musician's life, and her descriptions of the sounds he developed ("like a crazy rocket ride zigzagging through outer space") should lead many of them to seek out recordings of his work. It's a welcome tribute to an underrated figure in 20th century music. A Spanish-language edition is available simultaneously.
- Publishers Weekly

A kid's got to be careful in admitting a taste for grandparents' music. Mick Jagger is acceptable, and Aretha Franklin's not too embarrassing—and as Wood and Tonatiuh demonstrate in this picture-book biography, being part of Juan Garcia Esquivel fandom could be insanely cool. An autodidact at the piano, Esquivel had landed a modest piano gig on a Mexico City radio station by age fourteen and led a radio orchestra by age seventeen. With a keen ear attuned to urban soundscapes, he played fast and loose with popular Mexican tunes, lacing them with a kind of instrumental take on vocal scat that made him a recording star in both Mexico and the United States. Wood describes not only the quirkiness of his instrumentation but also how Esquivel arrived on the scene just in time to take advantage of new recording techniques and stereophonic sound separation, and how he was able to make a home in a range of sonic media, from Las Vegas stage shows, to television and movies, and of course, vinyl. That's all well and good, but for kids who haven't heard Esquivel, they'll need more incentive, and Wood brings it. Her closing note focuses on the 1990s resurgence of interest in Esquivel's recordings, which segues happily into the current rediscovery of the pleasures of vinyl. Tonatiuh reprises the Maya-influenced style audiences may recognize from Funny Bones: Posada and His Day of the Dead Calaveras (BCCB 10/15), but he infuses its formality with some freewheeling text and swirling motif design suggestive of Sean Qualls. The Resources page tosses in a couple of quotation credits and adult print references but concentrates on websites of Esquivel interviews and YouTube performances virtually guaranteed to secure the late orchestra leader a fresh following. Let the downloads begin.
- BCCB

Growing up in Mexico, Juan Garcia Esquivel got an earful of mariachi, but he wanted to create his own sound. Self-taught and persistent, he was playing piano at a radio station at fourteen and leading an orchestra for a radio comedy show at seventeen. His sound was so infectious that word traveled to the United States; a record company invited him to New York, which led to international success. Esquivel's rewardingly strange instrumentals and his innovations in stereo sound would come to define mid-twentieth-century lounge music. There's not much personal information here--one must turn to the author's note to learn that Esquivel died in 2002--but the story of his professional rise is told with pep and a keen awareness of how to best explain Esquivel's skills to young readers ("When the radio comedian needed music for a skit about, say, a stout man walking his tiny poodle down a busy city street, Juan had to imagine what that might sound like"). Illustrator Tonatiuh (The Princess and the Warrior, rev. 9/16), once again working within the tradition of the fourteenth-and fifteenth-century Mixtec codex, takes a fittingly offbeat approach to portraying the very modern Esquivel, whose music, as Wood puts it, "sounded like a crazy rocket ride zigzagging through outer space." Appended with source notes and lists of assorted resources.
- The Horn Book Magazine