We're following all official guidelines to keep ourselves healthy on the job, and as a result, shipping may be delayed.
You will receive an email from our web orders team confirming that your order has been processed.
We thank you for your support and your patience at this challenging time.
Long-Armed Ludy and the First Women's Olympics (Hardcover)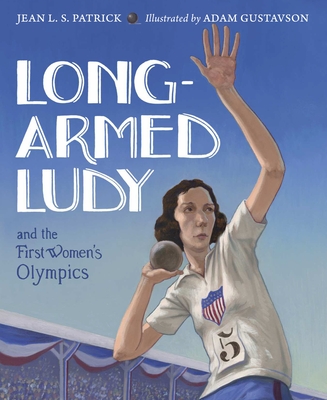 Description
---
Lucile "Ludy" Godbold was six feet tall and skinnier than a Carolina pine and an exceptional athlete. In her final year on the track team at Winthrop College in South Carolina, Ludy tried the shot put and she made that iron ball sail with her long, skinny arms. But when Ludy qualified for the first Women's Olympics in 1922, Ludy had no money to go.

Thanks to the help of her college and classmates, Ludy traveled to Paris and won the gold medal with more than a foot to spare. Hooray for Ludy!
 
Based on a true story about a little-known athlete and a unique event in women's sports history.
About the Author
---
Jean L. S. Patrick is the author of several books for children, including The Girl Who Struck Out Babe Ruth (Carolrhoda Books). Jean has also written a weekly children's book column for the Daily Republic in Mitchell, South Dakota, since 1989.


Adam Gustavson has illustrated several picture books, including the award-winning Good Luck, Mrs. K! (Margaret K. McElderry) and Dirty Rats. Adam lives in West Orange, New Jersey.

Praise For…
---
The true story of an exceptional athlete and a unique competition. Active from an early age, Lucile "Ludy" Godbold runs and swings from tree branches and plays tug of war with her dogs. "Six feet tall and skinnier than a Carolina pine," the young white woman enters Winthrop College in 1918. Always on an athletic field, she uses her extra-long arms to cheer on teammates. In her last year on the track team, she tries the shot put, setting a record at over 35 feet. Ludy and her coach immediately hop on a train to New York, where tryouts are being held for a new international meet called the Women's Olympics, an independent competition. In Ludy's tryout, she breaks her own record and earns her spot, though she fears that lack of funds will keep her home. But one day, the college president intercepts her as she's running by and tells her that the students and faculty have raised what's necessary to send her to France, where this new competition's being held—and where she clobbers her own previous world record. Who knew? Patrick's folksy account is crisp and packed with facts. Gustavson's evocative illustrations combine oil paintings with gouache on watercolor paper, painting Ludy as a gangly beanpole with an enormously expressive face. Backmatter includes more on Ludy's life and the Women's Olympics as well as period photos.
—Kirkus Reviews


"No one really knows how Ludy's arms got so long," begins the story of the tall and long-limbed Lucille "Ludy" Godbold, whose physical build led to a successful stint as a shot-putter. At Winthrop College in South Carolina, Godbold's track coach suggested she try the shot put. Godbold enjoyed and excelled at the sport and made the U.S. Women's Olympic team in 1922. However, when she lacked the funds to travel to France, college staff and students donated money so she could go. Godbold traveled to Paris and took home the gold. Folksy, descriptive text, which includes regional colloquialisms, will entertain readers. The acrylic illustrations are energetic, and the palette and style of dress of the depicted individuals are appropriate for the time period. Godbold's arms are often shown extended in activity, making them appear even longer. Most drawings fill a single page, with text and smaller inset pictures on the facing page. Full spreads are devoted to big events, such as Godbold winning the gold. Though stylized, Gustavson's artwork deftly captures Godbold's likeness. More information about the athlete and the Women's Olympics, an author's note, and a couple of black-and-white pictures are appended. VERDICT A charming, down-home introduction to a female athlete, and a great addition to any public or school library. 
--School Library Journal