Subway Ride (Paperback)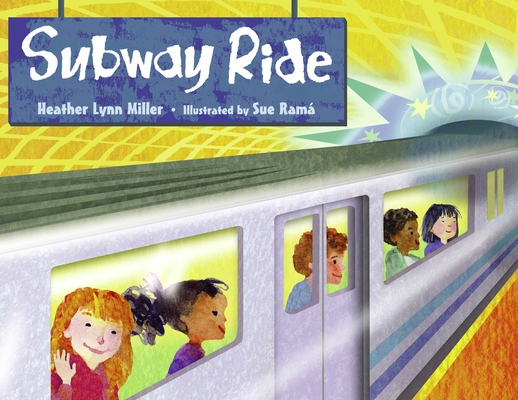 $7.95

Special Order—Subject to Availability
Description
---
Take a trip around the world on a subway train. A fantastical journey introduces young readers to subway travel through ten different cities around the globe. Five children pay the fare, enter the gates, and zip down the tunnels of the subway stations. Playful, rhyming text paired with vivid digital collage makes for a fun and unique way for readers to explore travel.  This trip around the world shows readers how travel and cultural connections create community.

Back matter includes information about the ten stations mentioned: Atlanta, Cairo, Chicago, London, Mexico City, Moscow, New York City, Stockholm, Tokyo, and Washington, D.C.
About the Author
---
Heather Lynn Miller is the author of THIS IS YOUR LIFE CYCLE and LOOK BEHIND: TALES OF ANIMAL ENDS. She lives in Auburn, Indiana.

llustrator Sue Ramá is both a writer and illustrator for children. Largely self-taught as an artist, Sue studied fimmaking and literature and worked as a graphic designer, all of which helped prepare her for the challenge of telling a children's story. Sue lives in East Windsor Hill, Connecticut, where she enjoys work, walking, and meditation.
Praise For…
---
Take a ride on subway trains all around the world. Beginning in Cairo, a multicultural group of children rides the trains in ten cities, zigzagging from stop to stop around the globe. The brief text is in serviceable near-verse ("Rumbling, roaring-/ blurring speed. / Silver bullet. /Rushing breeze"), but barely registers against Rama's vibrant digital collages of watercolor art. Vivid colors and blurred lines evoke a bustling cheer. Cleverly composed to suggest both depth and action, the pictures tell most of the story: Atlanta's dark tunnels, Chicago's El (a slight deviation from the underground theme), jazz combos in the Stockholm stations and so on, an iconic ticket indicating from place to place where readers and riders are. The book ends with crisp thumbnail portraits of the subways in the cities, which also include London, Mexico City, Moscow, New York, Tokyo and Washington, D.C. The offbeat idea is deftly handled and should trigger further study.
—Kirkus Reviews

Miller's spare rhyming text conveys impressions of subway travel: "Clomping, stomping, / shuffling feet / step to the clacking / subway best." Rama's merrily busy digital collages of watercolor art capture the sensations of riding on mass-transit trains. Endnotes give brief information about subway systems in different cities around the world.
—The Horn Book Guide

Five enthusiastic children of various ethnicities travel subway systems in different regions of the world. After paying their fares and scrambling through the turnstiles, they step on and off the rail cars and become part of the hustle and bustle of their changing underground locations, which include Cairo, Moscow, London, New York City, Washington, D.C., and Tokyo. The concise text, written in flowing rhymes, moves quickly. Rama's colorful digital collage spreads are a perfect match for Miller's word images. The artistic style has an Ezra Jack Keats quality as it brightly chronicles the children's travels. Native language spellings along with English spellings of the destinations are written on the subway tickets found within the artwork. This picture book can be incorporated into preschool/primary units on transportation, used as a springboard to introducing parts of the world, or shared during storytime. For a subway theme, pair it with Anastasia Suen's Subway (Viking, 2004) and Mary Quattlebaum's Underground Train (Doubleday, 1997). With its global perspective, it's a worthy purchase.
—School Library Journal

Not every child lives in a city with a subway system. Those who do will appreciate this lively re-creation of the train-riding experience, while those who don't will get a feel for what it's like to ride underground. Using brisk rhymes and digitally enhanced watercolors that shimmer and shake, the book follows five children as they make their way through subway stations around the world. Small metro tickets identify the city in each spread, but sometimes so do the particulars of the scene: hieroglyphics on the walls in Cairo; the Underground symbol in London; the outside El in Chicago. Whatever the location, the generalities are the same; waiting, rushing, buskers, rumbles, and roars. Smartly conceived, terrifically executed, this is a perfect book to have on hand when the subject is trains. An afterword goes into more detail about the subways in the features cities.
—Booklist