We're following all official guidelines to keep ourselves healthy on the job, and as a result, shipping may be delayed.
You will receive an email from our web orders team confirming that your order has been processed.
We thank you for your support and your patience at this challenging time.
A Girl Walks Into a Book: What the Brontës Taught Me about Life, Love, and Women's Work (Paperback)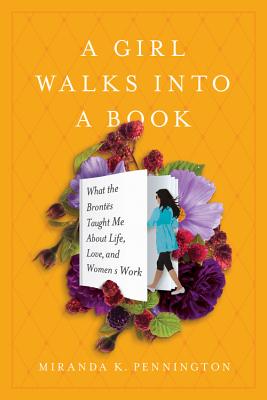 $16.99
Special Order—Subject to Availability
Description
---
How many times have you heard readers argue about which is better, Jane Eyre or Wuthering Heights? The works of Charlotte, Emily, and Anne continue to provoke passionate fandom over a century after their deaths. Brontë enthusiasts, as well as those of us who never made it further than those oft-cited classics, will devour Miranda Pennington's delightful literary memoir.
Pennington, today a writer and teacher in New York, was a precocious reader. Her father gave her Jane Eyre at the age of 10, sparking what would become a lifelong devotion and multiple re-readings. She began to delve into the work and lives of the Brontës, finding that the sisters were at times her lifeline, her sounding board, even her closest friends. In this charming, offbeat memoir, Pennington traces the development of the Brontës as women, as sisters, and as writers, as she recounts her own struggles to fit in as a bookish, introverted, bisexual woman. In the Brontës and their characters, Pennington finally finds the heroines she needs, and she becomes obsessed with their wisdom, courage, and fearlessness. Her obsession makes for an entirely absorbing and unique read.
A Girl Walks Into a Book is a candid and emotional love affair that braids criticism, biography and literature into a quest that helps us understand the place of literature in our lives; how it affects and inspires us.
About the Author
---
Miranda K. Pennington is a life-long Brontë enthusiast whose work has appeared on The Toast, The American Scholar online, The Ploughshares blog, and The Catapult Podcast. She has been a writing consultant and University Writing Instructor at Columbia University, where she also received her MFA in creative nonfiction. Pennington has also taught academic writing at Touro College, SUNY Empire State, and the LEDA institute; she has led creative writing workshops for the AmpLit festival and Uptown Stories, a Washington Heights-based nonprofit. A Girl Walks Into a Book is her first book.


Praise For…
---
"Pennington's devotion to the Brontës is earnest, but her memoir is also very funny."
—Winnipeg Free Press

"This is about as far from dry, passionless literary criticism as you can get. Pennington treats the Bronte material with the reverence of a book lover, but never loses sight of the sisters also being human, with human foibles and vulnerabilities. She weaves her story through theirs to great dramatic effect, giving thoughtful examination to how literature can affect our lives."
—Portland Book Review

"Pennington understands the Brontë sisters and is skilled at bringing them to life."
—Providence Sunday Journal

"Pennington combines long-term, deep knowledge of a biographical subject with a certainty that life lessons may be drawn from that subject in the here and now. Her approach is eye-opening, personal, and engaging."
—The Santa Fe New Mexican