Miracle at St. Anna (Paperback)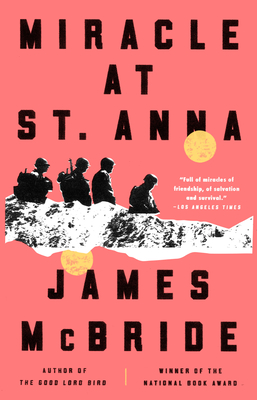 $16.00
Not On Our Shelves—Ships in 1-5 Days
Description
---
From the New York Times bestselling author of The Good Lord Bird, winner of the 2013 National Book Award for Fiction, Five-Carat Soul, and Kill 'Em and Leave, a James Brown biography.

James McBride's powerful memoir, The Color of Water, was a groundbreaking literary phenomenon that transcended racial and religious boundaries, garnering unprecedented acclaim and topping bestseller lists for more than two years. Now McBride turns his extraordinary gift for storytelling to fiction—in a universal tale of courage and redemption inspired by a little-known historic event. In Miracle at St. Anna, toward the end of World War II, four Buffalo Soldiers from the Army's Negro 92nd Division find themselves separated from their unit and behind enemy lines. Risking their lives for a country in which they are treated with less respect than the enemy they are fighting, they discover humanity in the small Tuscan village of St. Anna di Stazzema—in the peasants who shelter them, in the unspoken affection of an orphaned child, in a newfound faith in fellow man. And even in the face of unspeakable tragedy, they—and we—learn to see the small miracles of life.

This acclaimed novel is now a major motion picture directed by Spike Lee.
About the Author
---
Awarded a National Humanities Medal by President Obama, James McBride is an accomplished musician and author of the National Book Award-winning The Good Lord Bird, the #1 bestselling American classic The Color of Water, and the bestsellers Song Yet Sung and Miracle at St. Anna, which was turned into a film by Spike Lee. He is also the author of Kill 'Em and Leave, a James Brown biography. McBride is a Distinguished Writer in Residence at New York University.
Praise For…
---
"McBride creates an intricate mosaic of narratives that ultimately becomes about betrayal and the complex moral landscape of war."—
The New York Times Book Review
"Full of miracles of friendship, of salvation and survival."—Los Angeles Times
"Searingly, soaringly beautiful…The book's central theme, its essence, is a celebration of the human capacity for love"—The Baltimore Sun
"McBride is adept at describing the wartime state of mind: land and people lying ravaged in the wake of a wild brutality…The author is also skilled at capturing those almost epiphanic moments that seem to happen so often during wars, when ships pass briefly in the night. At these moments, his narrative, which is based on a true story, plunges straight to the heart."—San Francisco Chronicle
"McBride makes an impressive foray into fiction with a multi-shaded WWII tale…a haunting meditation on faith that is also a crack military thriller...strikingly cinematic…with nods to Ralph Ellison and Gabriel Garcia Marquez, McBride creates a mesmerizing concoction…a miracle in itself."—Entertainment Weekly
"James McBride…brings formidable storytelling skills and lyrical imagination to his novel…[He] deftly broadens the landscape of his drama by entering the minds of a range of supporting characters: Italian freedom fighters, white army officers, starving villagers, a clairvoyant, and even a 16th-century sculptor."—Minneapolis Star Tribune
"An outstanding novel about World War II inspired by the famous Buffalo Soldiers...so descriptive that I feel as though I'm an eyewitness to everything that happens emotionally on the frontline. The work provides us with a lesson not only about history but also about humanity and heroism."—The Dallas Morning News
"A miracle in its own right…McBride's prose is stunning. His ability to bring to life an actual historical event (the massacre at St. Anna and the famed Buffalo Soldiers of the 92nd Division) is a gift…McBride is able to make it work, with the understanding that true miracles happen within ourselves."—Denver Rocky Mountain News
"McBride's descriptions of the almost unavoidable, myth-infested Apuan Alps—terrain as beautiful as it is unbearable—are seething poetry. His reconstruction of history—from Florentine politics and tribalism to marble quarrying and sculpture—are masterful. McBride's empathy for his fellow human is as affecting as the poetry of his prose. He makes his reader...feel the pain, terror, anguish, self-doubt of his characters. The book's central theme, its essence, is a celebration of the human capacity for love. Even in the course of virtually unbearable warfare and deprivation...people are able to touch each other, to care. That, McBride insists, is the enduring, immortal miracle of the human race for all its imperfections."—The Baltimore Sun
"Great-hearted, hopeful, and deeply imaginative."—Elle
"McBride has taken a bold leap into fiction. [He] goes deep into each character and takes you with him. His rich description of the landscape...transports you into this world. It's a great piece of storytelling. I cried. I laughed. I hated finishing this book."—Albuquerque Tribune
"McBride has the enviable capacity to enlarge and complicate his readers' understanding of what it means to be human. McBride, who delivered a beautifully nuanced portrait of racial relations in his memoir, The Color of Water, brings the same humanity and understanding to his exploration of the complicated relationships between black soldiers and their white commanders in this novel."—BookPage
"A sweetly compelling novel. McBride combines elements of history, mythology and magical realism to make this a story about the little things like life and forgiveness and shared experience."—Atlanta Journal Constitution
"Miracle at St. Anna powerfully examines the horrors of history and finds an unexpected wealth of goodness and compassion in the human soul."—Newark Star-Ledger
"The miracles of survival, of love born in extremity, and of inexplicable 'luck' are the subjects of this first novel. [Miracle at St. Anna] is true to the stark realities of racial politics yet has an eye to justice and hope."—Library Journal (starred review)
"Riveting."—Newsday
"Roars ahead kicking and screaming to the finish, lightening-lit with rage and tenderness."—The San Francisco Chronicle
"A powerful and emotional novel of black American soldiers fighting the German army in the mountains of Italy. This is a refreshingly ambitious story of men facing the enemy in front and racial prejudice behind…Through his sharply drawn characters, McBride exposes racism, guilt, courage, revenge and forgiveness, with the soldiers confronting their own fear and rage in surprisingly personal ways at the decisive moment in their lives."—Publishers Weekly
"A tale of hardship and horror as well as nobility and—yes—miracles, during the Italian campaign in World War II."—Philadelphia Daily News
"World War II provides a dazzling backdrop for James McBride's first novel."—Savoy
"A brutal and moving first novel…McBride's heart is on his sleeve, but these days it looks just right."—Kirkus Reviews