Fact, Fiction, and Folklore in Harry Potter's World: An Unofficial Guide (Paperback)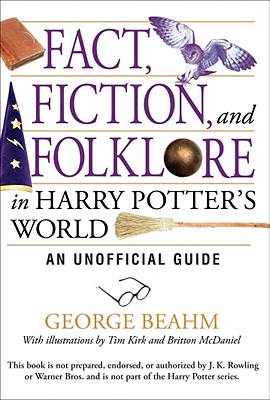 $16.95
Special Order—Subject to Availability
Description
---
Did you know that--
J. K. Rowling's characters share a lot in common with J. R. R. Tolkien's characters?
Many of the magical items in Harry's world actually have equivalents in ours?
Some of Rowling's beasts have been around for hundreds of years?
Find out the stories behind the stories
With more than 300 entries, from bite-sized appetizers to meaty entrees, this book provides fun and fascinating facts behind the world myths, legends, literature, and history embedded in the Harry Potter novels by J. K. Rowling, who holds a degree in French and the classics.
Arranged alphabetically in four sections--the fabulous beasts, the prominent wizards, the magical artifacts, and the places where the wizarding world hangs out--this comprehensive resource is entertaining and educational: Abominable Snowman to zombies, wizards Falco Aesalon to Bowman Wright, amulets to the wizard's wireless, and the apothecary store to Zonko's Joke Shop--it's all covered here.
With seventy illustrations by five-time Hugo award winner Tim Kirk and newcomer Britton McDaniel, this Harry Potter companion is a visual and narrative treat that belongs on the shelf of every fan.
With Fact, Fiction, and Folklore in Harry Potter's World you can explore the fascinating connections in the enchanting world of Harry Potter.