We're following all official guidelines to keep ourselves healthy on the job, and as a result, shipping may be delayed.
You will receive an email from our web orders team confirming that your order has been processed.
We thank you for your support and your patience at this challenging time.
Unstoppable: The Emerging Left-Right Alliance to Dismantle the Corporate State (Paperback)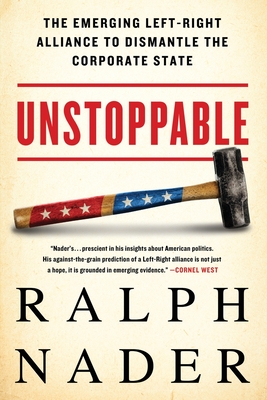 $14.99
Not On Our Shelves—Ships in 1-5 Days
Description
---
Ralph Nader has fought for over fifty years on behalf of American citizens against the reckless influence of corporations and their government patrons on our society. In Unstoppable, he ramps up the fight and shows how Left-Right coalitions can prevail over the corporate state and crony capitalism.

Nader reveals the many surprising victories won by united progressive and conservative forces throughout history and up to the present. As a participator in, and keen observer of, these budding alliances, he breaks new ground by showing how such coalitions can overcome specific obstacles that divide them, and how they can expand their power.
About the Author
---
Ralph Nader is an author, a lecturer, an attorney, and an American political activist in areas of consumer and worker protection, humanitarianism, environmentalism, and democratic government. He is the best-selling author of many books, including Unsafe at Any Speed, a critique of the safety record of American automobile manufacturers. Nader is a four-time candidate for president of the United States, having run as the Green Party nominee in 1996 and 2000 and as an independent candidate in 2004 and 2008.