We're following all official guidelines to keep ourselves healthy on the job, and as a result, shipping may be delayed.
You will receive an email from our web orders team confirming that your order has been processed.
We thank you for your support and your patience at this challenging time.
All the Presidents' Bankers: The Hidden Alliances that Drive American Power (Paperback)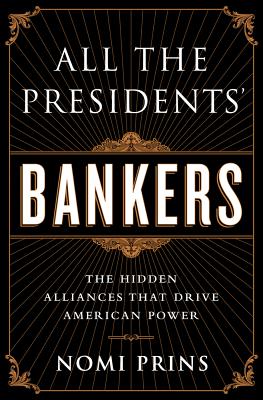 Special Order—Subject to Availability
Description
---
A groundbreaking narrative of how an elite group of men transformed the American economy and government, dictated foreign and domestic policy, and shaped world history.

Culled from original presidential archival documents, All the Presidents' Bankers delivers an explosive account of the hundred-year interdependence between the White House and Wall Street that transcends a simple analysis of money driving politics-or greed driving bankers.

Nomi Prins ushers us into the intimate world of exclusive clubs, vacation spots, and Ivy League universities that binds presidents and financiers. She unravels the multi-generational blood, intermarriage, and protégé relationships that have confined national influence to a privileged cluster of people. These families and individuals recycle their power through elected office and private channels in Washington, DC.

From the Panic of 1907 to the financial crisis of 2008, this unprecedented history of American power illuminates how the same financiers retained their authoritative position through history, swaying presidents regardless of party affiliation. All the Presidents' Bankers explores the alarming global repercussions of a system lacking barriers between public office and private power. Prins leaves us with an ominous choice: either we break the alliances of the power elite, or they will break us.
About the Author
---
Nomi Prins is a journalist, speaker, respected TV and radio commentator, and former Wall Street executive. Author of several books, including Collusion, Other People's Money and It Takes a Pillage, her writing has been featured in the New York Times, Fortune, Mother Jones, the Guardian, the Nation, and other publications. Follow her on Twitter @NomiPrins

Praise For…
---
"Even those who have read
Secrets of the Temple
, William Greider's massive and brilliant 1987 exposé of the Federal Reserve, will find Prins's book worth their time. She presents a new narrative, one that shows how the changing cast of six has shaped America's fortunes under presidents in both parties."—
David Cay Johnston
,
The American Prospect
"'All the Presidents' Bankers' spins an enormous amount of research into a coherent, readable narrative. Even her frequent kvetches about the lifestyles of rich and famous bankers are entertaining....There is always room for criticism, and Ms. Prins does it rather well. Banking was her first career before taking up journalism. She can talk the talk and is knowledgeable about the many points where banking and public policy intersect...Give her credit... for seeing through the façade of Dodd-Frank into the danger of another meltdown that lurks in our day of quasi-nationalized banking."
—
George Melloan, Wall Street Journal
"A calm, authoritative elucidation of verifiable history."—
Financial Times
"A seminal addition to the history of continuity government between the White House and Wall Street... A captivating read for anyone seeking clarity on why Wall Street can collapse, get bailed out by the taxpayer, cause a Great Recession and still call the shots in Washington...The hefty hardcover deserves instant classic status for two reasons: like no other tome before, it explains through original archival material why the mega Wall Street banks are coddled by Washington and have been allowed to survive a century of public looting - because they are considered an essential financial component of the U.S. war arsenal."—
Wall Street on Parade
"Prins divides her justifiably long text into digestible one- to three-page segments and seamlessly incorporates dozens of prominent banker profiles. Her work is highly recommended both to general readers and to students of financial history."—
Library Journal, starred review
"A revealing look at the often symbiotic, sometimes-adversarial relationship between the White House and Wall Street... [A] sweeping history of bank presidents and their relationships with the nation's chief executives."—
Kirkus Reviews
"This book offers a time line analysis of Americans who granted or wielded tremendous power in unelected positions of public trust, on behalf of US presidents and cabinet secretaries, from the 1880s through 2013... [Prins] tackles hundreds of handwritten letters, archives, and documents necessary to research her subject; her findings provide insight into how US policy advisers juggled their allegiances between their employers, clients, and contacts in the White House, and the good of the nation."—
CHOICE
"Nomi Prins follows the money. She used to work on Wall Street. And now she has written a seminal history of America's bankers and their symbiotic relationship with all the presidents from Teddy Roosevelt through Barack Obama. It is an astonishing tale. All the Presidents' Bankers relies on the presidential archives to reveal how power works in this American democracy. Prins writes in the tradition of C. Wright Mills, Richard Rovere and William Greider. Her book is a stunning contribution to the history of the American Establishment."—
Kai Bird, Pulitzer Prize-winning biographer and author of The Good Spy: The Life and Death of Robert Ames
"The relationship between Washington and Wall Street isn't really a revolving door. Its a merry-go-round. And, as Prins shows, the merriest of all are the bankers and financiers that get rich off the relationship, using their public offices and access to build private wealth and power. Disturbing and important."—
Robert B. Reich, Chancellor's Professor of Public Policy, University of California at Berkeley
"In this riveting, definitive history, Nomi Prins reveals how US policy has been largely dominated by a circle of the same families. For more than a century, they subverted democracy, neglected the public interest, and stole power from the American people."—
Paul Craig Roberts, former Wall Street Journal editor and Assistant Secretary of the US Treasury
"Nomi Prins has written a big book you just wish was bigger: page after page of killer stories of bank robbers who've owned the banks-and owned the White House. Prins is a born story-teller. She turns the history of the moneyed class into a breathless, page-turning romance-the tawdry affairs of bankers and the presidents who love them. It's brilliant inside stuff on unforgettable, and unforgivable, scoundrels."—
Greg Palast, investigative reporter for BBC Television and author of Billionaires & Ballot Bandits