We're following all official guidelines to keep ourselves healthy on the job, and as a result, shipping may be delayed.
You will receive an email from our web orders team confirming that your order has been processed.
We thank you for your support and your patience at this challenging time.
Unstoppable: The Emerging Left-Right Alliance to Dismantle the Corporate State (Hardcover)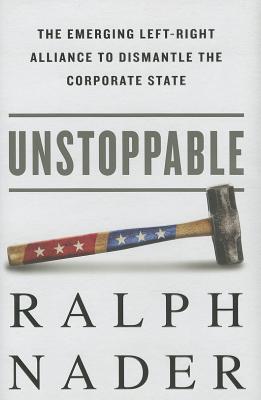 Special Order—Subject to Availability
Description
---
Ralph Nader has fought for over fifty years on behalf of American citizens against the reckless influence of corporations and their government patrons on our society. Now he ramps up the fight and makes a persuasive case that Americans are not powerless. In Unstoppable, he explores the emerging political alignment of the Left and the Right against converging corporate-government tyranny.

Large segments from the progressive, conservative, and libertarian political camps find themselves aligned in opposition to the destruction of civil liberties, the economically draining corporate welfare state, the relentless perpetuation of America's wars, sovereignty-shredding trade agreements, and the unpunished crimes of Wall Street against Main Street. Nader shows how Left-Right coalitions can prevail over the corporate state and crony capitalism.

He draws on his extensive experience working with grassroots organizations in Washington and reveals the many surprising victories by united progressive and conservative forces. As a participator in, and keen observer of, these budding alliances, he breaks new ground in showing how such coalitions can overcome specific obstacles that divide them, and how they can expand their power on Capitol Hill, in the courts, and in the decisive arena of public opinion.

Americans can reclaim their right to consume safe foods and drugs, live in healthy environments, receive fair rewards for their work, resist empire, regain control of taxpayer assets, strengthen investor rights, and make bureaucrats more efficient and accountable. Nader argues it is in the interest of citizens of different political labels to join in the struggle against the corporate state that will, if left unchecked, ruin the Republic, override our constitution, and shred the basic rights of the American people.

About the Author
---
Ralph Nader is an author, a lecturer, an attorney, and an American political activist in areas of consumer and worker protection, humanitarianism, environmentalism, and democratic government. He is the best-selling author of many books, including Unsafe at Any Speed, a critique of the safety record of American automobile manufacturers. Nader is a four-time candidate for president of the United States, having run as the Green Party nominee in 1996 and 2000 and as an independent candidate in 2004 and 2008.

Praise For…
---
"I read Ralph Nader for the same reasons that I read Tom Paine. He knows what he thinks, says what he means, and his courage is a lesson for us all."
—Lewis Lapham
"Thomas Jefferson fretted that, with the passing of the founding generation, the truer patriotism that he knew as the 'Spirit of '76' would be lost. He need not have worried. Ralph Nader has recaptured the founding faith with an inspired call for a left-right coalition of conscience on behalf of democracy, liberty, fairness and peace."
—John Nichols, Washington correspondent for The Nation and co-author of Dollarocracy
"For more than 50 years, Nader has backed the rights of citizens against the growing influence of corporations and government leaders tied closely to those businesses...The new book offers readers broad philosophical views, as well as many detailed suggestions, about how to promote and advance a growing political alliance between the left and the right that challenges the growing alliance between Big Business and Big Government."
—The Charleston Gazette
"In Unstoppable, Ralph Nader argues that there are in fact surprising areas of convergence between the left and the right... These are profound observations... Mr. Nader rails so effectively." —David Asman, Wall Street Journal

"Activist Nader sketches out places of 'convergence' where liberals and conservatives can start working together for the public good.…[he] lists reforms with which many lawmakers would agree, including breaking up too-big-to-fail banks, protecting children from commercialism and ending corporate personhood." —Kirkus Reviews

"One of Ralph Nader's finest efforts. A bold and lucid handbook for the future." —Patti Smith

"Conservatives and liberals both look askance at the Leviathan state and realize that promises of 'doing good' often obscure the reality of 'doing well' at taxpayer expense. Those looking for opportunities for bi-partisan cooperation should look at the nexus of statism and cronyism. Unstoppable shows that opposing such corruption can bring activists of the right and left together to fight side by side." —Grover Norquist

"Ralph Nader's timely book once again makes him prescient in his insights about American politics. His against-the-grain prediction of a Left-Right alliance is not just a hope, but it is grounded in emerging evidence." —Cornel West

"Nader at his best—original, indignant, idealistic, and on the lookout for new political alliances and possibilities. A tonic for the cynicism that's poisoning the groundwater of our democracy." —Robert B. Reich, Chancellor's Professor of Public Policy, University of California at Berkeley

"No American in recent decades has done more than Ralph Nader to construct a workable alliance between the principled Right and the sincere Left to salvage our country and our national prosperity, and Unstoppable outlines his vital mission." —Ron Unz, former publisher of The American Conservative

"Unstoppable is even-handed, erudite, practical and necessary. Nader harnesses his lifelong crusade for the public interest over the corporatist agenda into a treatise that is optimistic and patriotic. He demonstrably shows that effective Left-Right alliances aren't pipe dreams, but historic realities in need of strategic cultivation, for the sake of our future." —Nomi Prins, author of All the Presidents' Bankers
Coverage from NPR