India Map (National Geographic Adventure Map #3011) (Folded)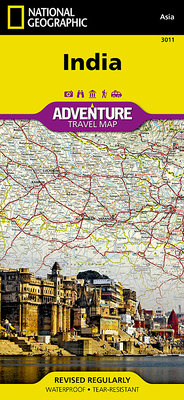 India Map (National Geographic Adventure Map #3011) (Folded)
$14.95
Not On Our Shelves—Ships in 1-5 Days
Other Books in Series
This is book number 3011 in the National Geographic Adventure Map series.
- Waterproof - Tear-Resistant - Travel Map
National Geographic's Adventure Map of India is an invaluable tool for travelers seeking to explore the rich history, vibrant cultures, and exotic landscapes of this remarkable country. Designed to meet the needs of adventure travelers with its detailed, accurate information, this map includes the location of cities and towns with a user-friendly index and a clearly marked road network complete with distances and designations for roads/highways, plus secondary routes for those seeking to explore off the beaten path. Hundreds of points of interest and diverse and unique destinations are highlighted including World Heritage sites, archeological sites, Hindu and Buddhist temples, beaches, and more. Important travel aids like airports, airfields, rail lines, and ferry routes are included as well.
The front side of the print map covers India's southern half, from the Vindhya Range extending south to the city of Trivandrum. The map also includes the island of Sri Lanka and an inset map of the Andaman and Nicobar Islands in the Bay of Bengal. The reverse side of the map features the northern half of the country, spanning its borders with Pakistan, China, Nepal, Bhutan, Myanmar (Burma) and Bangladesh.
Every Adventure Map is printed on durable synthetic paper, making them waterproof, tear-resistant and tough -- capable of withstanding the rigors of international travel.
Map Scale = 1:3,150,000Sheet Size = 37.75" x 25.5"Folded Size = 4.25" x 9.25"