Into the Teeth of the Tiger (Paperback)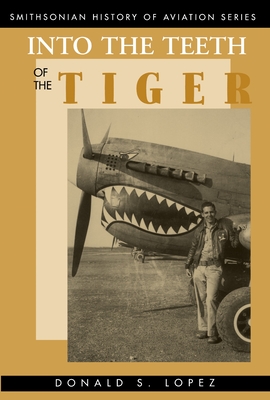 $17.95

Special Order—Subject to Availability
Description
---
Into the Teeth of the Tiger provides a vivid, pilot's-eye view of one of the most extended projections of American air power in World War II Asia. Lopez chronicles every aspect of fighter combat in that theater: harrowing aerial battles, interludes of boredom and inactivity, instances of courage and cowardice. Describing different pilots' roles in each type of mission, the operation of the P-40, and the use of various weapons, he tells how he and his fellow pilots faced not only constant danger but also the munitions shortages, poor food, and rat-infested barracks of a remote sector of the war. The author also offers keen observations of wartime China, from the brutalities of the Japanese occupation to the conflict between Chiang Kai-shek's Nationalists and the Communist movement.

This edition of Lopez's acclaimed account features new photographs, most of which have never before been published. Relating how the 23rd Fighter Group continued to win battles even as the Japanese gained ground, Into the Teeth of the Tiger is the humorous and insightful memoir of an ace pilot caught in the paradox of victory in retreat.
About the Author
---
Donald S. Lopez served in the US Army Air Force and the US Air Force from 1942 to 1964 and was later on the faculty of the US Air Force Academy. He is currently the deputy director of the Smithsonian's National Air and Space Museum, and the author of Fighter Pilot's Heaven: Flight Testing the Early Jets (Smithsonian Institution Press, 1995).
Praise For…
---
"Much more than a military history, this book is a detailed description of daily life in wartime China."—Air & Space Magazine

"A fine addition to our knowledge of World War II, especially war in the Far East. . . Relatively few Flying Tigers have written and published their view of 'how it really was.' For readers interested in the China-Burma-India theater in World War II or for those interested in exploring the flexibility of airpower, this book is a must."—Air & Space Power Journal