Smart Couples Finish Rich: Nine Steps to Creating a Rich Future For You and Your Partner (Abridged / Audio Cassette, Abridged)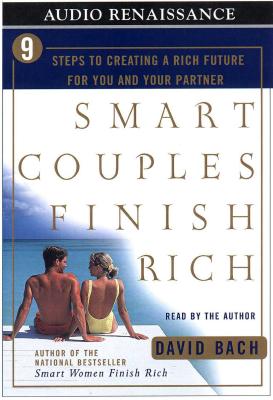 $17.95
Special Order—Subject to Availability
Description
---
Fighting about money is the number-one reason for divorce in America. David Bach, a nationally recognized financial advisor, author, and speaker, knows that it does not need to be this way. A financial coach to millions through his seminars, books, and PBS specials, and a person who has helped thousands of couples overcome their money problems, Bach now makes his valuable tips available for everyone trying to navigate the complex joint-financial waters.

With the same uplifting, motivating, no-nonsense style that made Smart Women Finish Rich a bestseller nationwide, Smart Couples Finish Rich covers a powerful combination of strategies that helps couples work on their finances as a team. His easy-to-use tools and advice includes: busting the myths about couples and money, achieving both partners' goals and dreams, and how to avoid fighting about prenuptial agreements, trusts, and estates.

Addressing every couple—younger or older, married or not, straight or gay—this is a comprehensive, positive financial lifesaver that will help couples of all ages and in all tax brackets communicate comfortably about money and start building a strong financial future together.
About the Author
---
David Bach is the author of the #1 national bestseller The Automatic Millionaire, and the national bestsellers Smart Couples Finish Rich, Smart Women Finish Rich, and The Finish Rich Workbook. His FinishRich seminars are now the leading financial seminars in North America, having been taught in over 2,000 cities by thousands of financial advisors. He has appeared on the Oprah Winfrey Show, and is the host of his own nationally syndicated radio show, Live Rich with David Bach. Prior to founding FinishRich, Inc., he was a senior vice president of Morgan Stanley and a partner of The Bach Group, which during his tenure managed over a half billion dollars for individual investors. To read an excerpt of any of David Bach's books, visit his website at www.finishrich.com.