Faith Without Certainty: Liberal Theology In The 21st Century (Paperback)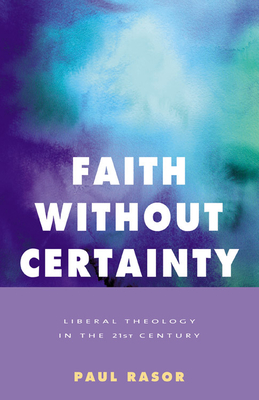 $18.00
Special Order—Subject to Availability
Description
---
"Religious liberals today remain committed to such central principles as free religious inquiry, autonomous judgment about truth claims, and openness to divergent views. Nevertheless, many yearn for more shared content, for a common understanding about their faith that they can share with one another and with newcomers. This dilemma, this tension, can feel creative or paralyzing, freeing or frustrating--but it is undeniably part of religious liberalism."

From the Introduction:
"This innovative critical analysis of religious liberalism probes the dynamic tensions of a theology that is committed to individual freedom and autonomy on the one hand and a greater sense of community on the other. Much more than a primer, Faith without Certainty lays out the basic characteristics of liberal theology, delving into historical and philosophical sources as well as social and intellectual roots. Clear-eyed but ultimately hopeful, Rasor explores the ambiguous and creative nature of liberal theology today."

Ideal for readers who want a better understanding of liberal theology, a religious tradition that is rooted not in authority but in one's own experience and conscience.
About the Author
---
Paul Rasor is director of the Center for the Study of Religious Freedom at Virginia Wesleyan College. An ordained Unitarian Universalist minister, he earned his Ph.D. in theology from Harvard Divinity School.