The Great Floodgates of the Wonderworld: A Memoir (Paperback)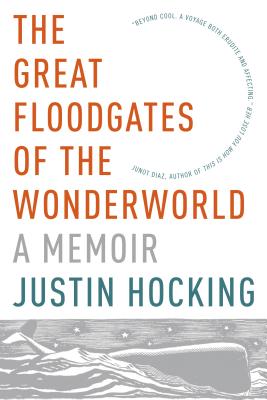 $15.00
Special Order—Subject to Availability
Description
---
Surfing in Far Rockaway, romantic obsession, and Moby-Dick converge in this winning and refreshing memoir
Winner of the Oregon Book Award for Creative Nonfiction
Justin Hocking lands in New York hopeful but adrift-he's jobless, unexpectedly overwhelmed and disoriented by the city, struggling with anxiety and obsession, and attempting to maintain a faltering long-distance relationship. As a man whose brand of therapy has always been motion, whether in a skate park or on a snowdrift, Hocking needs an outlet for his restlessness. Then he spies his first New York surfer hauling a board to the subway, and its not long before he's a member of the vibrant and passionate surfing community at Far Rockaway. But in the wake of a traumatic robbery incident, the dark undercurrents of his ocean-obsession pull him further and further out on his own night sea journey.
With Moby-Dick as a touchstone, and interspersed with interludes on everything from the history of surfing to Scientology's naval ties to the environmental impact of the Iraq War, The Great Floodgates of the Wonderworld is a multifaceted and enduring modern odyssey from a memorable and whip-smart new literary voice.
About the Author
---
Justin Hocking is an avid surfer and skateboarder. He edited Life and Limb: Skateboarders Write from the Deep End, and his work has appeared in The Rumpus, Thrasher, and The Normal School. He is the executive director of the Independent Publishing Resource Center and lives in Portland, Oregon.
Praise For…
---
"Hocking is earnest and candid, and he writes well about nature. . . . Invigorating." —The New York Times Book Review
"In this appealing memoir, the young author finds salvation from a dead-end Manhattan office job in an activity not often associated with New York: surfing. . . . The passages about surfing and the relationships it fosters are filled with excitement and tenderness. It's hard not to cheer for [Hocking]." —The New Yorker
"With nearly pitch-perfect tone, Hocking impressively builds [The Great Floodgates of the Wonderworld] around a series of tension-and-release vignettes that roll through the narrative like waves. . . . Hocking's journey will prove relevant and immediate in its exploration of maturation and experiencing both spiritual collapse and, eventually, renewal." —The Boston Globe
"Hocking doesn't dwell on his misfortunes, or cast himself as the hero. Instead, Wonderworld focuses on a more common, less headline-catching narrative: the small, lovely, but difficult, ways human beings heal in a world rife with mistakes and misjudgments, wrongdoing and despair. . . . [The Great Floodgates of the Wonderworld is] reflective and honest, with charm and just the right amount of innocence." —Los Angeles Review of Books
"In this elegant hybrid of homage to Melville and memoir, Hocking examines timeless archetypes and questions their pertinence in his own life. . . . His admiration for Melville's opus does not prevent him from telling a compelling story of his own." —Library Journal, starred review
"Through stylistic understatement and perfect tonal pitch. . . . Hocking ultimately transcends 'the dark Ahab force.'" —Kirkus, starred review
"A lovely, measured, and complex examination of how we manage to heal ourselves amidst the messy tumult of the world around us--a quiet and brilliant achievement of both emotion and technique." —John D'Agata, author of About A Mountain and judge of the 2015 Oregon Book Award in Creative Nonfiction
"Melville called Ishmael a 'dreamy, meditative man.' So is Justin Hocking. From his modern masthead, he sees a capacious and generous world, one he brings to life in this erudite and introspective memoir." —Shelf Awareness
"The Great Floodgates of the Wonderworld is one of the most satisfying memoirs I have read in years, a book both moving and sagaciously written." —Largehearted Boy
"This beautiful memoir is beyond cool. A voyage both erudite and affecting." —Junot Díaz, author of This Is How You Lose Her
"As generous as it is smart, as intimate as it is grand, as illuminating as it is dark. With grace and guts, Justin Hocking dares to go where few men have gone before: not only out to sea, but also into the depths of the human heart." —Cheryl Strayed, author of Wild
"Melville-haunted, surfing-imbued, and wisdom-packed, The Great Floodgates of the Wonderworld is a lucid and moving memoir. Hocking's laid-back erudition and narrative generosity take us by the hand down a winding path at the end of which lies a new openness to the world's wonder." —Antoine Wilson, author of Panorama City
"The Great Floodgates of the Wonderworld is transcendent. Justin Hocking explores what it means to be a skateboarder, a surfer, and a writer, and he lays bare the pains and joys of each, the surprising ways the endeavors mirror one another. The book is thrilling in its structure and moving in its emotion and conviction. The chapters roll like waves, carrying you along and breaking over you, washing you in revelation after revelation." —Bret Anthony Johnston, author of Remember Me Like This
"Searching, gutsy, and vulnerable, The Great Floodgates of the Wonderworld is a deeply felt account of a young man's aching coast-to-coast search for an emotional home in the world. The settings and quasi-romances couldn't feel more contemporary--anti-depressants and underground New York skateparks, sleeping pills and cold water surf breaks in the Pacific Northwest. But the journey couldn't be more universal, painful, and worthwhile." —Daniel Duane, author of Caught Inside: A Surfer's Year on the California Coast
"This nightshade journey reflects on the inner Ahab inside all of us. . . . Melvillian arcana abounds, leading to a profound journey into Moby-Dick's infinitude of meanings, mixed with inopportune break dancing, a harrowing carjacking, and a meditation on the redemptive power of skateboarding and surfing, the allure of waves and the sea, and life itself." —Jocko Weyland, author of The Answer Is Never