A History of Just About Everything: 180 Events, People and Inventions That Changed the World (Hardcover)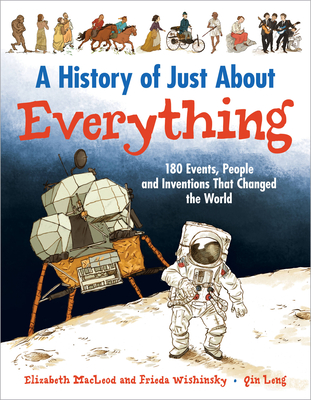 $21.95
In Stock—Click for Locations
Description
---
This fascinating, chronological ?walk through history? offers a unique perspective by providing context and connections ?to show how we are all part of, and linked to, the past, the present and the future.? From the first appearance of humans six million years ago up to the modern day, 180 extensively researched and fact-checked entries describe world-changing events and people through time. The topics covered include scientific discoveries; revolutions (political, industrial and scientific); natural and human-made disasters; important books, plays and art; and the people behind it all. Fully illustrated and written in an engaging, accessible, quick-moving style, the entries capture the essence of what makes each subject noteworthy and why it mattered at the time as well as today. ?Learning about history makes you realize that what happens in one place and time can spill over to another,? the authors write. ?Each event creates a ripple effect. Sometimes we don't know what the ripple will be till years later.? They flesh out this cause-and-effect concept in numerous cross-references to other related entries in the book, and in special ?Ripples? boxes that further explore the future impacts of the event. Besides the table of contents, which can function also as a time line, the book contains a separate at-a-glance time line broken down by subject, a particularly helpful resource for social studies lessons, and an extensive index. This essential, thorough, one-stop history sourcebook is sure to find continuous use in the classroom or library.
About the Author
---
Elizabeth MacLeod has written many children's books, including nine titles in the Snapshots Biography series, numerous titles in the Kids Can Read, Kids Books Of and Kids Can Do It series, Why Do Horses Have Manes?, What Did Dinosaurs Eat?, and Monster Fliers. She lives in Toronto.
Qin Leng was born in Shanghai, China, and later moved to France and then Montreal, Canada. She now lives in Toronto, Canada, with her twin sister and works as a designer and illustrator. Her books have been nominated for numerous prizes, including the prestigious Governor General's Literary Award.
Praise For…
---
Compact and surprisingly complete, this volume is a superb introduction.
—
School Library Journal
The book is easy to navigate and includes fun, colourful illustrations.
—
Quill & Quire
This heavily illustrated title takes readers on a whirlwind tour through historical milestones.
—
Booklist