We're following all official guidelines to keep ourselves healthy on the job, and as a result, shipping may be delayed.
You will receive an email from our web orders team confirming that your order has been processed.
We thank you for your support and your patience at this challenging time.
Saving Henry: A Mother's Journey (Paperback)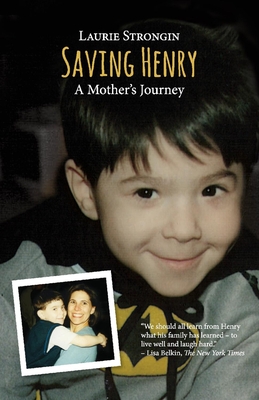 Special Order—Subject to Availability
Description
---
Saving Henry is the eye-opening and inspiring story of how far a family will go to save the life of their child. Laurie Strongin's son Henry was born with a heart condition that was operable, but which proved to be a precursor for a rare, almost-always fatal illness: Fanconi anemia. Deciding to pursue every avenue that might provide a cure, Laurie and her husband signed on for a brand new procedure that combined in vitro fertilization with genetic testing to produce a baby without the disease, who could be a stem cell donor for Henry. As Laurie puts it: "I believe in love and science, nothing more and nothing less." Laurie and her husband endured nine failed courses of the procedure before giving up. But Saving Henry is also about hope. It is the story of Henry, the feisty little boy who loved Batman, Cal Ripken Jr., and root beer-flavored anesthesia, and who captivated everyone with his spunk and positive attitude. When the nurses came to take blood samples, Henry brandished his toy sword and said, "Bring it on!" When he lost his hair after a chemo treatment, he declared, "Hey, I look like Michael Jordan!" Laurie became a fervent advocate for stem cell research, working with policymakers and the scientific community to bring attention to Henry's case and to the groundbreaking research that could save many lives. Henry's courage and bravery inspired nurses, doctors, friends, and family. Saving Henry is the story of one family's search for a cure, and the long-lasting scientific impact their amazing little boy has had.
About the Author
---
For 30 years, Laurie Strongin has helped draw attention and resources to issues of emerging national significance. In 1996, Laurie became drawn through personal experience into the frontlines of a breakthrough medical procedure that held the promise of saving her son, among countless other children. Turning her advocacy and media skills to that issue, Laurie participated in national medical policy panels (alongside Newt Gingrich and Dr. Bernadine Healy, among others); worked with then-House Democratic Leader Nancy Pelosi and Congresswoman Diana DeGette (D-CO) to urge Senate passage of the Stem Cell Research Enhancement Act; secured coverage of the issue on ABC's "Nightline" and in a Sunday New York Times magazine cover story; authored Vetoing Henry, a Washington Post op-ed criticizing President Bush's 2006 veto of federal funding for human embryonic stem cell research; and advocated for parental perspectives on NBC, the CBS Early Show, and MSNBC. In 2009, when President Obama lifted the ban on federal funding for stem cell research, Laurie was one of a few dozen honored guests. Laurie's subsequent memoir, Saving Henry, has been featured on Good Morning America, The Diane Rehm Show, The Bob Edwards Show, The Dr. Oz Show, and BBC; and featured in USA Today and The Washington Post. Since its publication, Laurie has headlined over 60 speaking engagements across the U.S. Laurie's leadership has been recognized by numerous institutions. She has received Children's National's Chairman's Award, Georgetown Pediatrics' Flame of Hope Award, Children's Charities Foundation's Star for Children Award and the Center for Nonprofit Advancement's 2016 EXCEL Award. Laurie was featured as a "Heroes Among Us" in People magazine in 2016. In addition, in 2015-2016, she served on the Institute of Medicine's Committee on the Ethical and Social Policy Considerations of Novel Techniques for Prevention of Maternal Transmission of Mitochondrial DNA Diseases. She serves on the board of directors of the National Marrow Donor Program, and on the Association of Child Life Professional's Advisory Council.