The League: How Five Rivals Created the NFL and Launched a Sports Empire (Paperback)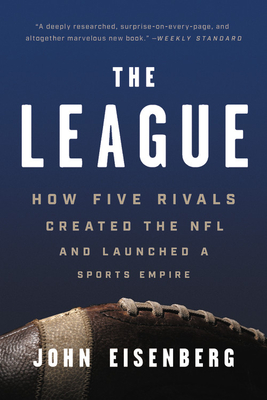 $17.99
In Stock—Click for Locations
Description
---
The epic tale of the five owners who shepherded the NFL through its tumultuous early decades and built the most popular sport in America
The National Football League is a towering, distinctly American colossus spewing out $14 billion in annual revenue. But it was not always a success. In The League, John Eisenberg focuses on the pioneering sportsmen who kept the league alive in the 1920s, 1930s, and 1940s,when its challenges were many and its survival was not guaranteed. At the time, college football, baseball, boxing, and horseracing dominated America's sports scene. Art Rooney, George Halas, Tim Mara, George Preston Marshall, and Bert Bell believed in pro football when few others did and ultimately succeeded only because at critical junctures each sacrificed the short-term success of his team for the longer-term good of the league.
At once a history of a sport and a remarkable story of business ingenuity, The League is an essential read for any fan of our true national pastime.
About the Author
---
John Eisenberg is the author of nine previous books, including That First Season and Ten-Gallon War, and a former sportswriter for the Baltimore Sun. He also has written for Sports Illustrated and Smithsonian Magazine. Eisenberg lives in Baltimore, Maryland.
Praise For…
---
"John Eisenberg tells the fascinating account of how five owners, including the Bears's George Halas, cut through their disputes and differences to work together to form the foundations of the league."
—
Chicago Tribune
"The pluck-and-luck tale of the creation and stabilization of the league is a small but exemplary chapter in American capitalism and popular culture."
—
Wall Street Journal
"[A] deeply researched, surprise-on-every-page,
and altogether marvelous new book"
—
Weekly Standard
"Drawing on extensive research and personal interviews with descendants of the principle figures, Eisenberg (That First Season) puts a nearly century-old story into contemporary context. Football fans of all teams will appreciate this fascinating history."
—
Publishers Weekly
"A readable and fresh look at the early history of the NFL"
—
Library Journal
"Fans who only know the league as it exists today will be shocked and fascinated by its early years."
—
Booklist
"A rich history of the rise of the National Football League from its virtual obscurity at its genesis in the 1920s to its position as an economic and cultural powerhouse today... Thoroughly researched and gracefully told... An engaging and informative cultural history, on and off the gridiron."
—
Kirkus (Starred)