We're following all official guidelines to keep ourselves healthy on the job, and as a result, shipping may be delayed.
You will receive an email from our web orders team confirming that your order has been processed.
We thank you for your support and your patience at this challenging time.
Darwin's Rival: Alfred Russel Wallace and the Search for Evolution (Hardcover)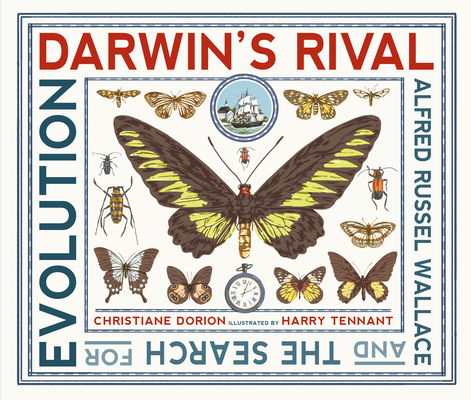 Description
---
A beautifully illustrated volume follows a lesser-known Victorian naturalist and explorer on his global journeys — and reveals how he developed his own theory of evolution.

Everyone knows Charles Darwin, the famous naturalist who proposed a theory of evolution. But not everyone knows the story of Alfred Russel Wallace, Darwin's friend and rival who simultaneously discovered the process of natural selection. This sumptuously illustrated book tells Wallace's story, from his humble beginnings to his adventures in the Amazon rain forest and Malay Archipelago, and demonstrates the great contribution he made to one of the most important scientific discoveries of all time.
About the Author
---
Christiane Dorion's passion for writing children's books stems from the thousands of questions she asked as a child, many of which remained unanswered: How big is the universe? When did life begin? Originally from Canada, she moved to the United Kingdom to get a Ph.D. in environmental education before working for World Wildlife Federation, United Kingdom, and later becoming an educational consultant. Her award-winning books are intended to inspire children to explore the complex systems of the world we live in and help protect it. Christiane Dorion lives in Surrey, U.K.

Harry Tennant is London-born, but escaped to the coves of Cornwall to study illustration at University College Falmouth before returning to the capital of the United Kingdom once more. He now works as a freelance illustrator, using a mixture of hand-drawn and digital media to create his illustrations, and primarily produces artwork for magazines and book covers. Harry Tennant lives and works in Hackney, U.K.